Known for painting landscapes on big scrolls, Chinese artist Dong Xiyuan leads an "austere life", in the words of his friends and art critics. For the 49-year-old artist, creating a painting several meters in length and width is as common as the sleepless nights he spends with brush in hand.
"I dare not say that I paint every day of the year, but it's almost like that," says Dong. His day usually starts in the afternoon and ends in the early morning of the next day, painting continuously except during mealtimes.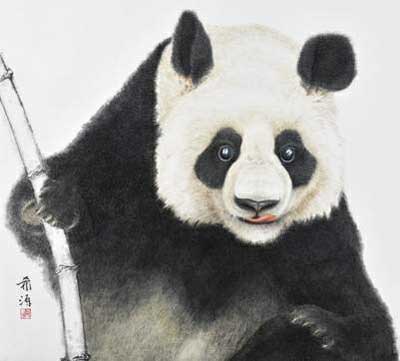 Most of Dong's pieces are landscapes of towering mountains dotted with trees and veiled in fog — a classical form that is the ideal of Chinese painting. He also paints animals, birds and flowers — common features of Chinese painting.
On the 42nd World Environment Day in June, Dong was invited to present an exhibition, Man and Nature, at the United Nations Environment Programme in Nairobi, Kenya. The show featured 48 Chinese ink paintings and a series of animals painted for the show.
The 10 animals were from Africa, including African elephant and rhino, and from China, such as the giant panda and the golden monkey. Dong paints the heads of all the animals in close-up views to show their vivid facial expressions.
"I depict the animal heads in large size to force an awakening of people's consciousness of environmental protection," says Dong.
Chinese painting has drawn its themes from landscapes, flowers, birds, fish and insects since the Song and Yuan dynasties (960-1368). So it's no wonder most Chinese artists have a love for the nature, says Dong.
"The ideology of Chinese philosophy stresses that humans are an integral part of nature. So this kind of theory shows itself in my paintings," says the painter.
To stay connected with nature, Dong spends two to three months each year exploring the wilderness. He usually sets up a big easel before a scene and spends days drawing the scenery. It's common for him to stay in the mountains for weeks.
The biggest easel he ever set before a scene was 1.2 meters long and 2.4 meters high, while the biggest picture he has created at his studio is 27 meters long and 2.3 meters high.
"The feelings and brushstrokes I use when immersed in nature are totally different from those when I draw pictures at my studio," says Dong.
Dong was born in Zhao'an in Fujian province, a place known for its long history of Chinese painting and calligraphy. Dong learned painting at age 9 from his uncle Shen Bingshan, a well-known blind painter.
Benefiting from his artistic family, the "self-taught" painter's work has been well-known in his hometown since he was a teenager. He went to Shanghai to follow his favorite artist at 20 and from then his art career took off.
Dong has patiently executed detailed brushstrokes to paint large-scale pictures for decades. His 27-meter-long painting was done with Chinese brushes made from animal hair about one inch long.
"Each piece of my artworks is a physical challenge. But to work out a good layout for a large-scale painting takes more time," says Dong, whose studio occupies hundreds of square meters, allowing him to work on large pictures.
Many of his largest works are hung on the walls of landmark buildings, such as the Great Hall of the People and the gate tower of Tian'anmen.
Looking back on his trip to Africa last month, Dong says he wants to adopt a baby elephant at the elephant orphanage near Nairobi. He will stay and paint at the United Nation Environment Programme next year.
"I will still focus on painting animals next year. It's my way to call on people to stop hunting and killing animals — for nature's sake," says the painter.