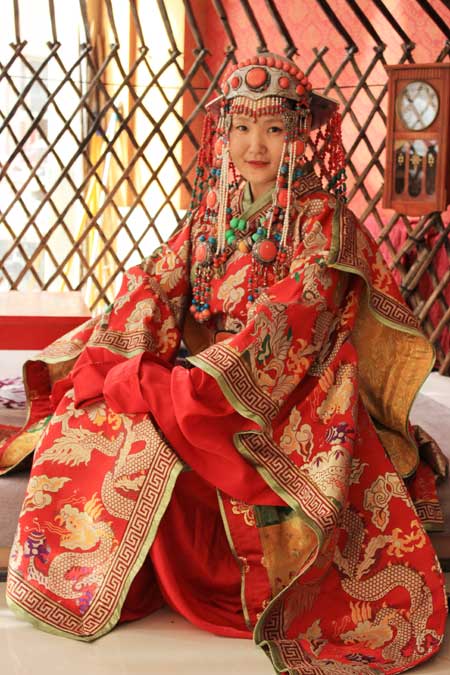 Wu Yunhua's eight-people workshop tries to preserve the culture of Mongolian attire. Photos by Wang Kaihao / China Daily
Renewed interest in traditional Mongolian dress has promoted designers to find ways to adapt it to modern wearers, Wang Kaihao and Yang Fang report from Xilinhot, Inner Mongolia.
Perhaps, this is a Mongolian-style Via Monte Napoleone: 30-odd costume shops gather in this downtown area in Xilinhot, capital of Xilin Gol League in the Inner Mongolia autonomous region.
The neighborhood is much less luxurious than that celebrated fashion street in Milan, but the costumes' unique ethnic characteristics make them almost impossible to copy anywhere else. The elegantly ornamented clothes attract camera-clicking visitors, too.
People of the Mongolian ethnic group are reincorporating their traditional attire back into their lives.
Wu Yunhua, 59, a local woman who ventured into the costume business in 1993, is the city's leading entrepreneur in the fashion industry.
According to Wu, summer clothes are ordered before each year's Spring Festival, and if customers do not order winter or next spring's clothes before May, they will have to wait another year. Major celebrations, weddings and nadaams (the traditional Mongolian sports games and festivals) are also peak seasons.
"I am not able to take half of the orders because we don't have that large amount of output," Wu smiles in the face of problems that come with success. Her workshop has a staff of eight.
"I don't want to expand the scale to compete with manufacturers in southern provinces," she says. "I don't think they can create the same flavor. How can costumes rooted in Mongolian culture be produced far away from this grassland?"