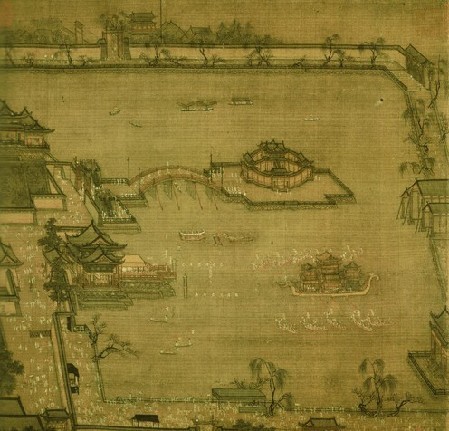 Dragon Boat race in Jinming Pool (Jin Ming Chi Duo Biao Tu) by Zhang Zeduan, the Song Dynasty (chinaculture.org)
Since ancient times, many scholars have made use of Qu Yuan's story and the customs in the Dragon Boat Festival to express their feelings.
A long-scroll painting of the Painting of Nine Songs, which was created based on Nine Songs written by Qu Yuan, is held in the Jilin Museum in China. It was painted by Zhang Wo, a painter from the Yuan Dynasty (1271-1368). The fist painting of the scroll is a figure of Qu Yuan, while the remaining 10 paintings are 10 immortals. On the 6-meter scroll, the painter depicted 11 scenes. On the painting, Qu Yuan is standing there, wearing a bag-sleeve long gown. He looks gaunt and haggard. Although he is deeply worried, he still possesses civility.
The painting is the earliest image of Qu Yuan among existing ancient paintings of China. The painter adopted an outline drawing to depict Qu Yuan in his imagination. Depicting images with lines only is an artistic form and a painting branch peculiar to Chinese paintings. It is interesting that it counters western sketches which show images with surfaces. They complement each other. The painting of Zhang Wo is said to be the best masterpiece among outline drawing classics which were handed down from ancient times. The lines are mellow and full with agility. It is said to have achieved the highest state of outline drawing.
We recommend:
Tibetan art show expected to cement China-Australia ties
China-Trinidad and Tobago cultural relations expanding
Joint Conference of Confucius Institutes in Asia to kick off in Cambodia
Croisements festival offers touch of French culture to Chinese