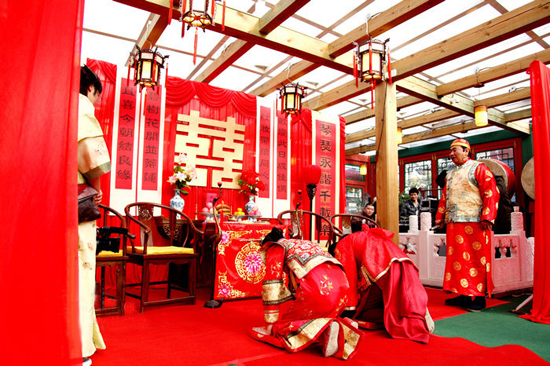 Bowing to Heaven and Earth in front of the altar table. [File Photo]
A red wedding gown, satin bridal veil, dragon-phoenix cakes, firecrackers exploding in the air - all these elements are used in a traditional Chinese wedding with "happy" and "auspicious" connotations. In addition, bowing to Heaven and Earth in front of the family altar is also a major element that indicates a good start in the marriage. A legendary story lies behind this distinctive custom.
As the Chinese legend goes, when Nyuwa started creating humans, she molded a male figure from yellow clay. This man lived a comfortable life with nothing to worry about, but he felt lonely since there was no one to keep him company. He asked Moon Lord (the legendary Chinese matchmaker) to find a bosom friend for him. At Moon Lord's request, Nyuwa created a female figure as the man's companion. When they got married, Moon Lord came with two white-haired and white-bearded seniors and said to the newlyweds, "These two are Lord of Heaven and Lord of Earth, whom your life will be reliant on. You should bow to them three times to show your gratitude." Since then, the custom of "bowing to Heaven and Earth" at the wedding ceremony has been handed down from generation to generation.
The place to perform it is usually in front of the bridal chamber, where an altar table is placed with memorial tablets for the two Lords on it.
Today, instead of bowing to Heaven and Earth, bowing to parents is more often performed.
We Recommend: