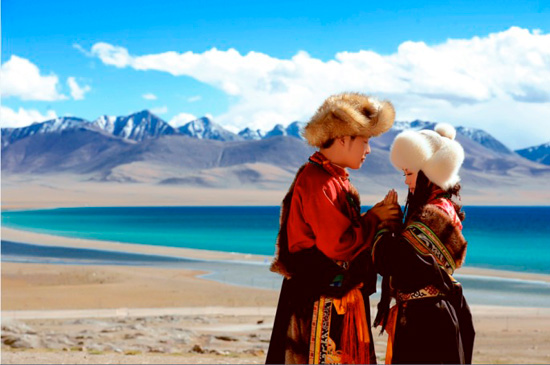 Many newlyweds in China have their eyes on Tibet.
More and more Chinese couples are having their wedding photos shot in Tibet's stunning scenery, for the natural beauty, as well as the famous cultural sites.
Ms. Liu and her fiance are planning to get married next year. They have decided to shoot their wedding photos at Norbulingka, a park in the city of Lhasa built in 1755. It is no easy task, and they must get up early in the morning to prepare, but they think it is worth it.
"I really love this place, many of my friends had their photos taken here too. The photographers here are also very skilled," Liu said.
Another couple is at the famous Potala palace; they have wanted to come to Tibet since their childhood.
"This place is just so beautiful and iconic, and my husband and I want it be a witness of our love."
According to photographers, this time of year is a booming season for wedding photos, especially for Chinese couples. Photo studios are rolling out new package deals every year to include many of the famous sites in Tibet. Ethnic attire is also a popular feature for customers.
The booming season is expected to last until October, and that means a lot more hard work ahead for photographers.
We recommend: