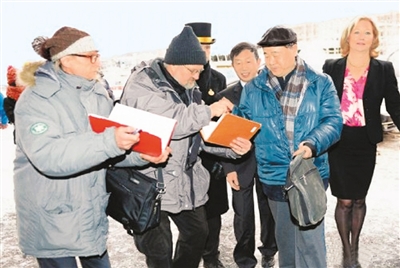 Mo signs autographs for his fans in Sweden.
Since then, Mo has become a calling card for the city, and his influence can be found everywhere: the Mao opera Hong Gao Liang , adapted from Mo's novel, debuted on Oct. 10; a comic book, about Mo Yan's childhood went on sale at Gaomi Culture & Sports Park on Oct. 11; a seminar on Mo's works will be held during the festival; on Oct. 27, the TV series Hong Gao Liang will premiere on SDTV.
After winning the prize, Mo began to represent China in various cultural exchange activities. This year he has visited scores of cities in America and Europe. Two weeks ago he attended the 10th anniversary of the Confucius Institute in Sofia, Bulgaria. Speaking at the event he said that there are many precious treasures in Chinese culture and ethnic arts, which belong not only to China but also the whole world.
"Compared to cultural icons and art forms, thoughts have a great influence over people. Chinese people are familiar with western philosophers, such as Hegel and Kant. At the same time, our Confucius, Laozi, Zhuangzi and Chinese Buddhism are now well known to westerners and have become part of the treasury of world thinking."
Mo's works have been translated into many languages and he is always ready to talk to foreign journalists who have read his novels and watched Chinese films. "All the people in the world - we share different cultural backgrounds but have the same feelings." In France, Mo once invited an eminent intellectual who used to be a government minister to dinner. "I paid the bill and he was really happy," said Mo. "Just as in China, you will feel good if I treat you to a meal. Regardless of nationalities, we are all the same at heart. We are all emotional creatures. Of course people will appreciate our sincerity, if we treat them with true hearts. And communications between nations and ethnic groups are a kind of interaction of emotions. If we treat others sincerely, we will be rewarded with sincerity."
We recommend:
| | | |
| --- | --- | --- |
| |   | |
|  Traditional artworks on display at intangible cultural heritage exhibition | The 11th China (Changzhou) International Animation Art Week opens  | Broadway-themed musical 'Kung Fu Hero' in Houston  |