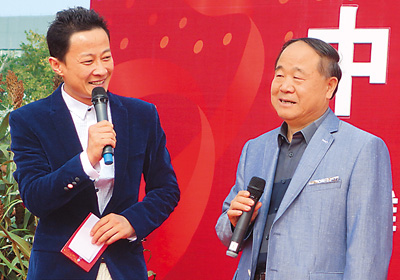 Mo delivers speech at Hong Gao Liang Cultural Festival on Oct. 11, 2014. (People's Daily Overseas Edition/Chen Zhenkai)
The 5th Hong Gao Liang Cultural Festival (Gaomi) opened on October 11, 2014. Two years ago, on the same day, Mo Yan became the first Chinese winner of Nobel Prize for literature. While giving interviews, Mo talked about his home town, culture and experiences over the past two years.
"Nowhere is better than home," said Mo. Most of the stories in Mo's works take place in his home town of Gaomi, in Dongbei,. "The home town, a kind of local memory, is a perpetual theme in Chinese literature. For instance, poets in Tang and Song dynasties created marvelous Chinese poems by expressing their sorrows at parting and their nostalgia for their dear home towns." In Mo's works, he writes about his childhood, his classmates, his teachers and parents, his favorite food… Some murders that happened there feature in his novel Hong Gao Liang (Red Sorghum), such as the SunjiaKou ambush and the Gongpo Temple murder.
'Gaomi town in Dongbei' is a literary concept. But it is not the same as his real hometown, Mo explains. "What writers produce is related to their literary creations, and these are definitely accumulations. Stories and experiences of a writer and the people he has met can all become materials in his writing and be adapted into the so-called home town stories." In June this year, Mo delivered a speech called 'Novels and the home town', in which he said that the home town is a theme that no writer can resist. "Writers develop their home towns by means of literature. What they are really doing is elevating the localites that are dear to them."
During the festival, many Gaomi-born celebrities attended a forum that celebrated the 20th anniversary of Gaomi evolving from a county to a city. There can be no doubt that Mo Yan was the most eye-catching attraction. Mo said that like every city in China, Gaomi has changed for the better after twenty years of development. Two years ago when Mo won the Nobel Prize for literature,Gaomi became an overnight sensation for people all around the world.
We recommend:
| | | |
| --- | --- | --- |
| |   | |
|  Traditional artworks on display at intangible cultural heritage exhibition | The 11th China (Changzhou) International Animation Art Week opens  | Broadway-themed musical 'Kung Fu Hero' in Houston  |