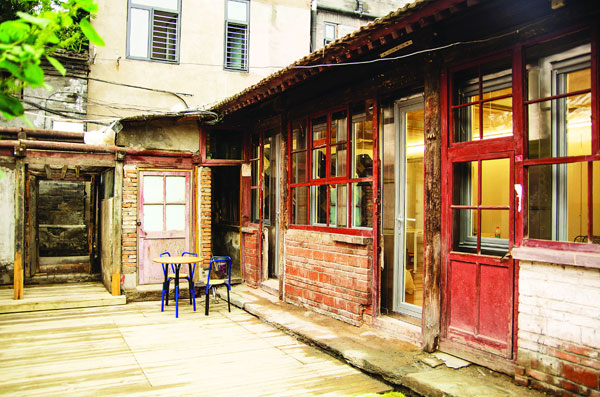 Architects and designers seek to improve the quality of life with projects such as the plug-in house in the Dashila'r hutong community.

Design innovators are bringing new life to Beijing's Dashila'r.
While in Beijing, you can't get more local than Dashila'r. Here you can take a stroll along the hutong, taste the most authentic Beijing snacks before watching a shadow play in a courtyard theater.
Located southwest of Tian'anmen Square near Qianmen Gate, Dashila'r became one of Beijing's most prosperous business areas during the Ming Dynasty (1368-1644) and remains one of the largest hutong communities in the city.
However, with its declining business position and aged infrastructure, Dashila'r has lost its luster in the last few decades. Now in its second year, the Dashila'r Pilot Project, in collaboration with Beijing Design Week, seeks to improve the quality of life there and revitalize the community by working with urban planners, architects, designers and artists.
"These projects will serve as examples of how design can solve the problems in daily life and how it can promote interaction in the elderly community," says Jia Rong, manager of the Dashila'r Alley project, which includes the Dashila'r Pilot Project.
Among the latter's 28 efforts, many address the regeneration of the old courtyard houses. As people are moving out of the courtyard, there are more empty houses in the hutong, many of which are in poor condition. To make use of these houses without damaging their original structure or disturbing the people living nearby, James Shen and his two partners at the People's Architecture Office renovated the courtyard house in an unprecedented way.
The architects inserted prefabricated modular units inside the house while maintaining the original structure. So a remade space is built with the least possible disturbance to the neighbors. Modern devices like plumbing, floor heating and wiring are integrated into the plug-in units.
While it usually takes a construction team two to three months to renovate such a space, Shen and his partners built the plug-in house in two days with just a few hex wrenches. As the modular units can be mass-produced, it is also a very cost-effective method: half the cost of renovation and one-fourth the cost of reconstruction, he says.
We recommend: