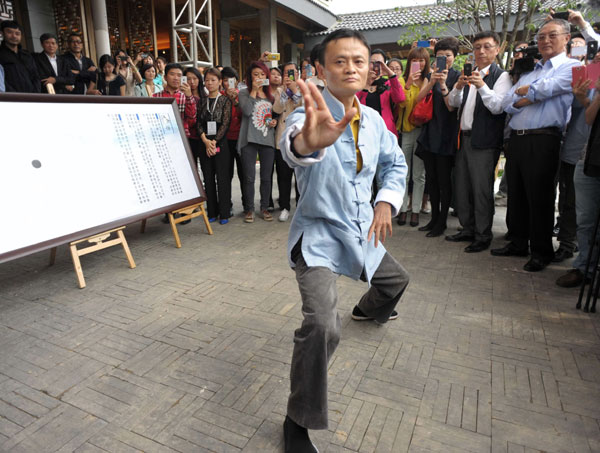 Ma practices tai chi on a street in Hangzhou, Zhejiang province.[Photo by Dong Xuming/China Daily]
Since Wang quit her job as a producer at China Central Television to start the Web TV company Umiwi in her 40s, she also writes with the insight of a tech entrepreneur, Mao says.
The second author, Li Xiang, is an acclaimed business journalist who has reported on Ma and his business for more than a decade. Li presents Ma's journey within a macroeconomic and historical context, Mao says.
Alibaba has controlled 80 percent of China's online sales today. It sold $296 billion worth of goods in the 12 months ending in June-an amount estimated to exceed the combined sales of Amazon and eBay during the period, reports The Straits Times in Singapore.
While most of its revenue comes from fees and commissions from the online-shopping platforms Taobao and Tmall, Alibaba ranks among the most diversified conglomerates. It has stakes in Chinese payment services, video streaming and cloud computing.
One of the narrative appeals of Ma's life is that it's a rags-to-riches story.
He was born to poorly educated parents in Zhejiang province's capital Hangzhou in 1964. Ma failed the college entrance examination twice before enrolling in Hangzhou Normal University as an English major.
"He's certainly China's most written about entrepreneur," says Zhu Liangzhou, book purchasing manager and market researcher with CITIC Book, a high-end bookstore chain run by publishing mammoth China CITIC Press.
"Almost everything about him has been written up-his life experiences, his business success, his philosophy. Even his speeches have been compiled into books. Publishers like books about business idols because there's a ready market. People are curious about how they've gotten rich and how they've successfully operated a business. Ma is an exceptionally hot subject."
Zhu believes that's because of Ma's success and eloquence, and his slight appearance and humble background make him an unlikely business titan.
We recommend: