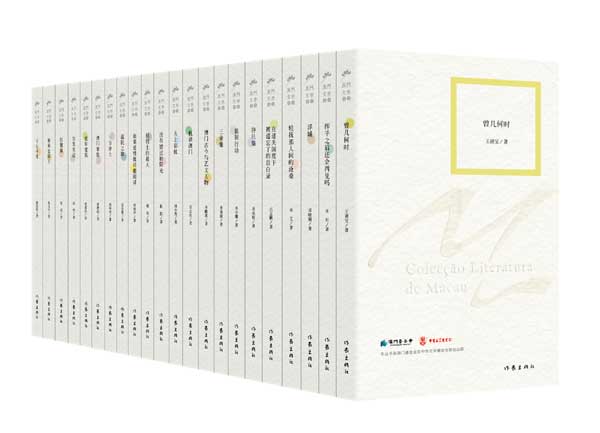 The first set of the Collection of Literature in Macao. [Photo/China Daily]
A new collection of works brings the heritage of the old Portuguese colony to mainland readers, Xing Yi reports.
To many people Macao is a city of gambling. That lucrative industry, however, is not only a powerhouse for Macao's economy but also a source of inspiration for its authors and poets.
In Un Sio San's collection of poems Liu Min Zhi Ge (Songs of the Exiled), the 28-year-old Macao poet chants of people's sense of alienation in the city. Yuan writes in her poem, "The sky is blue but insincere", referring to the artificial sky in The Venetian Macao, one of the famous casino resorts in the city.
In a collection of short stories by young Macao novelist Loi Chi Peng, The Forgotten Confessions in the Lost Realm, the writer depicts different lives of ordinary people in the gambling-dominated city. In Loi's stories, Macao is seen as a promised land for many immigrant workers. When they come, however, they find life here is different from their expectations: Alcohol, drugs, deception and humiliation become part of their lives.
Joe Tang, winner of the Macao Literature Award, uses his novel Floating City, a thriller set in Macao's casinos, to tell how main character Anthony accidentally wins a big prize but soon finds himself under investigation.
These books are among a collection of works by Macao writers published by China Writers Publishing House that were released at the 2014 Beijing International Book Fair last week, two months ahead of the 15-year anniversary of Macao's return to China.
Located along the west bank of the Pearl River Delta in southern China, it was a Portuguese colony from the mid-16th century to 1999 and served as an important port city for Southeast Asia, which makes it a rich heritage blending Chinese and Western cultures.
"Macao has a mix of different literature traditions," says He Jianming, vice-chairman of the China Writers Association. "The diverse cultural backgrounds have instilled a unique flavor into Macao's literary arts."
Besides local writers who were born and raised in Macao, many writers of this series were immigrants who moved from the nearby Guangdong province and Hong Kong.
Titled Collection of Literature in Macao, the first batch of the series is composed of 22 literary works, ranging widely from poetry to fiction, prose to literary reviews.
"This is the first collective publication of Macao's contemporary writers in the Chinese mainland," says Wu Zhiliang, president of the Macao Foundation, which co-sponsored the publication with China Literature Foundation.
According to Wu, another 20 to 30 works are planned for the second batch of the series, which might come out next year.
"We hope this series of books can serve as a platform for our writers to tell Macao stories, and help more mainland readers to have a taste of Macao literature," adds Wu.
Lu Lili contributed to the story.