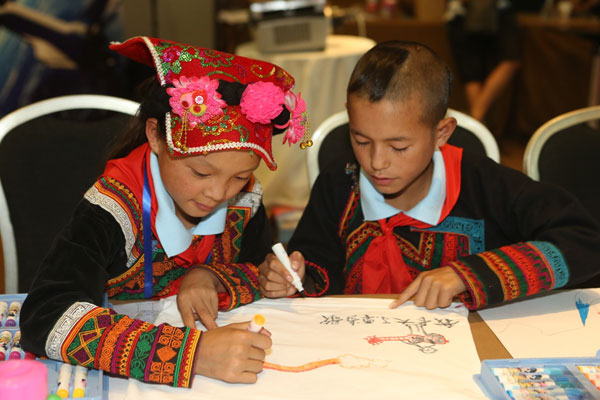 Students from Meigu county, in Sichuan province's Liangshan Yi autonomous prefecture, take part in a science summer camp in Beijing. [Photo by Xu Lin/chinadaily.com.cn]
During the summer camp, the students toured famous cultural heritage venues in Beijing, such as the Great Wall and the Forbidden City, and acquired new knowledge at the China Science and Technology Museum.
Dressed in traditional Yi ethnic group costumes, they also joined in a "Seagate Science Day" event, doing science experiments in class, under the guidance of volunteers from the company.
Sun demonstrated to the students how technology can change human life and Li Jun, Seagate's technical engineer taught them the theories of gravity, buoyant force and centrifugal gravity using interesting experiments.
Since 2012, the company has helped build several hope primary schools and two digital libraries in Liangshan. The Seagate Hope Digital Library — the first of its kind in rural China — allows students to have multimedia and computer classes, read e-books and watch movies.