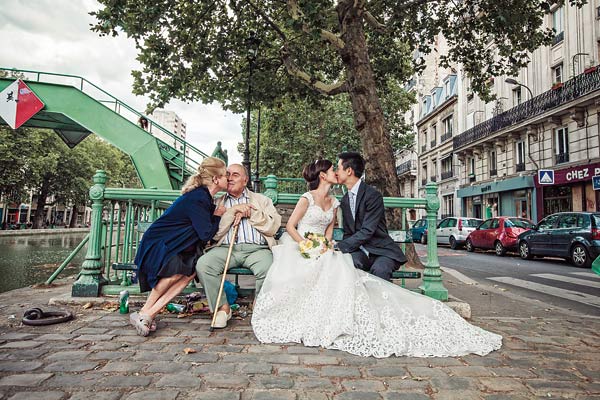 The newlyweds are photographed beside an elderly couple in Paris. Photos provided to Shanghai Star.
Zhao Lin and Wang Yang probably have the most romantic jobs in the world. Wu Ni tells you why.
Imagine a job that involves traveling with your sweetheart to the world's most scenic spots to take beautiful photos. And it earns good money, too.
That's what exactly Zhao Lin and Wang Yang do. The couple, both Shanghai natives, take overseas pre-wedding photos for brides and grooms-to-be. Zhao, 35, is the photographer and his wife Wang, 34, is the dresser and assistant.
They have captured sweet moments for lovers at the Eiffel Tower in Paris, the vast desert in Dubai, snowcapped Alps in Switzerland, a medieval town in Sweden, the clear blue sea at Bali, and more than a dozen other cities.
The travel destination is decided by clients but usually the bride-to-be has the final say, Wang says, adding that more couples now prefer special, unconventional pre-wedding photos.
A couple of lovers, for instance, chose Dubai. "The girl grew up at the coastal city of Xiamen. Blue sea and green forest do not attract her. She wanted something different and chose the desert," Wang says.
The case left a deep impression because of a funny incident. Just as Zhao had set up the camera and the lovers held each other's hands before a historical museum in the city, a security guard intervened.