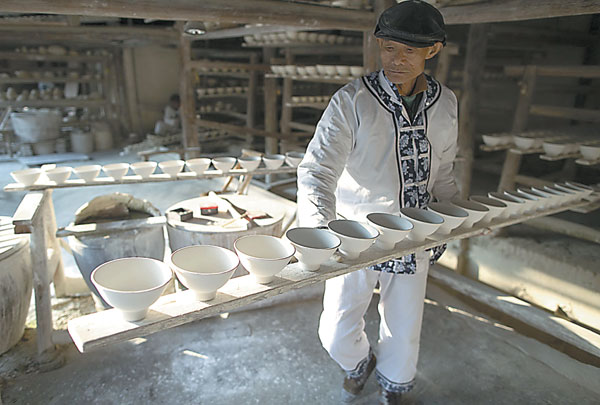 A craftsman carries half-finished porcelain at the ancient kiln museum in Jingdezhen, Jiangxi province. Photos by Zhang Hao / for China Daily

The revival of traditional pottery-making techniques has resulted in renewed interest in an ancient city's kilns and provided a boost for local tourism.
More than 100 pieces of porcelain enclosed in saggers - boxlike containers made from fire clay - were being fired in a 286-year-old wood kiln.
On the top of the kiln, a number of small eye-shaped openings allowed master kilnman Hu Jiawang to look into the structure and assess whether the porcelain was fired. When not in use, the "eyes" are covered with pieces of fire-resistant pottery to maintain a steady temperature by ensuring the heated air doesn't escape.
Hu spit into one of the "eyes" and watched the flames change color from red to white. "Almost done... almost," the 70-year-old said, his face glowing in the heat.
Built during the Qing Dynasty (1644-1911), the Zhenyao is the best-preserved ancient kiln in Jingdezhen, Jiangxi province. The structure, which is also known as the "Jingdezhen kiln" because of its strong links with the city, was restored by the local administration in 2009, and then put back into use.
When the kiln roared into life again, the city's age-old ceramics tradition was also rekindled by the renaissance of ancient pottery techniques.
As the fire crackled and the fragrance of burning pine filled the air, Hu said the flames would burn fiercely enough to reach every corner of the huge furnace, which can produce 10,000 kilograms of porcelain in one firing
Hailed as the world's largest wood-burning kiln by Guinness World Records, the 40-meter-long structure was in a state of advanced disrepair before the restoration work began; the surrounding wall had collapsed and the kiln's egg-shaped body was broken in several places.
"People switched to gas or electrical kilns," Hu said. "Even 30 years ago, people were warning their children to stay away from wood-burning kilns. They said the old ways of making ceramics were over and the wood kiln had no future - even worse, people said the traditional porcelain industry had no future."
The 'capital of porcelain'
After more than 50 years working with traditional kilns, Hu is regarded as "the last master of the wood-burning kiln". He is aware that when he dies, many of the ancient techniques will die with him.
Jingdezhen has been dominated by the ceramics industry for more than 1,000 years, gaining the nickname "The Capital of Porcelain" after an 11th century emperor used the term in admiration of its beautiful products.
We recommend: