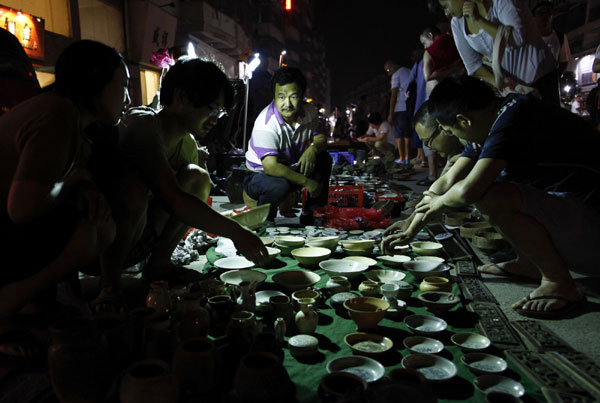 The 'Ghost Market', which is held every Monday at 4 am, is believed to be China's biggest street market for ceramics. Photos by Zhang Hao / for China Daily
Showing the 'signature'
When China celebrated the ninth Cultural Heritage Day in Jingdezhen on June 14, the centerpiece of the exhibition was the lighting of the ancient Zhenyao.
After 24 hours of burning and a further 24 cooling, the Zhenyao was ready to be opened. Zhou used a wooden stick to move the bricks that sealed the mouth of the furnace and took out the still-warm porcelain, including blue-and-white jars, red-glazed vases, spoons and bowls.
Products made in wood-burning kilns are becoming increasingly popular, according to Zhou, who said burning embers fall onto the porcelain and melt quickly, producing the secondary surface film that's the signature of wood-fired porcelain.
In Jingdezhen, a teacup made in this fashion costs more than 200 yuan ($32), ten times the price of pottery made in a gas or electrical kiln, and a teapot would cost more than 2,000 yuan.
Hu, the Zhenyao operator, said he makes a good living designing and building small kilns for individual clients.
"I thought I would be unemployed when wood-burning kilns lost their popularity. However, they have made a comeback, not on a large scale like in ancient times, but they are becoming very popular among ceramic artists, collectors and high-end customers."
The upsurge in interest about the old techniques has seen Hu take on five apprentices, giving him hope for the future: "I might not be the 'last master of the wood-burning kiln', as people like to call me."
We recommend: