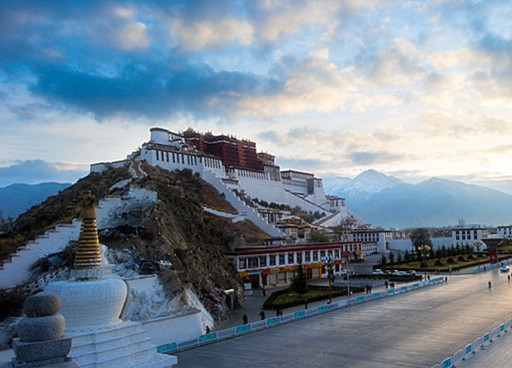 The Potala Palace in Lhasa
Thirteen–Year–old Tenpai Nyima and his parents are relaxing on the doorstep of Jokhang Monastery, more than 2,800 kilometers from their hometown in Sichuan Province.
Two months ago, the family completed a pilgrimage from their hometown to Lhasa, a 230-day journey on foot during which they ritually prostrated themselves every three steps. When they finally reached the square of the famous Jokhang Monastery, they sat down, exhausted, and reflected on their achievement.
Tenpai had stayed in touch with friends back home during this tedious journey through his mobile phone and Internet. Thanks to social networking he could share his experience with people around the nation and beyond.
Not far away, Ang Zhehai, 74, and his wife from neighboring province Qinghai are circumambulating, the ritual of circling the monastery and praying. The couple are on their third pilgrimage to Lhasa. Ang's first was 62 years ago as a boy of 12; it took him five months to reach Lhasa by ox cart. After construction of the Qinghai-Tibet Highway, 58–year–old Ang's second trip took only four days. Now the drive from his hometown Xining to the Tibetan capital has been reduced to overnight.
We recommend: