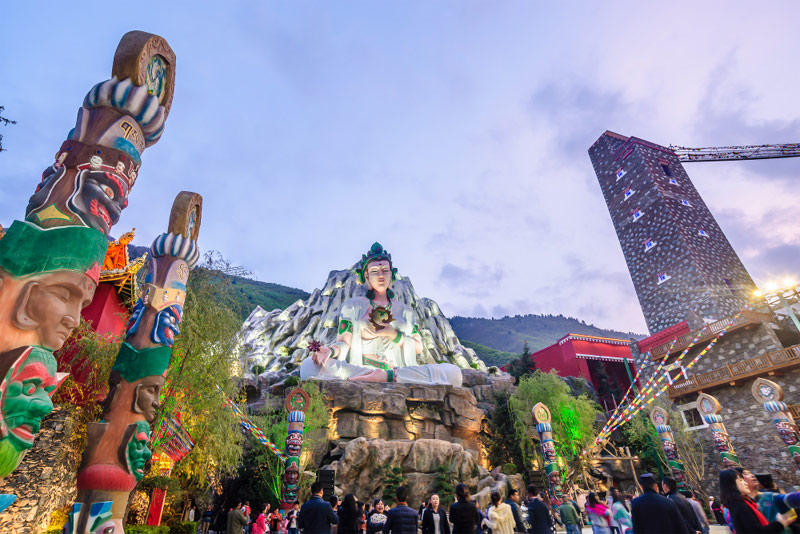 The goddess of snow mountains stands in the Jiuzhai Songcheng Park. [Photo/China Daily]
It's all like watching a beauty pageant, and I indulge in the visual feast.
Arriving at the place where the Rize and Zechawa valleys meet from the two branches of the Y area, I hear rushing waters. It is the Nuorilang waterfall, the widest in China, about 270 meters across with drops equal to the height of a seven-story building. The huge voice of the waterfall echoes in the valley. I'm lucky enough to see a rainbow here.
Further on, the Mirror Lake is renowned for its quietness, reflecting the surrounding trees clearly in perfect stillness. The Panda Lake takes the colors of white and black from the stones underneath.
Then comes the most wonderful Five Flower Lake, with colors ranging from peacock blue and green to light yellow. It glitters under the afternoon sunshine.
All day, no matter where I go, I can always see the white peak of mountains covered by snow. When I get up to 4,000 meters, where magnificent Long Lake stretches out against the white snow, it is breathtaking in every sense, and the beauty before me makes my heart race.
The biggest dark blue lake in Jiuzhaigou flows to the end of the snowy mountain far away, framed in tree-clad mountains. In this visual collision of winter and spring, the blue, white and green combine to make everything seem unreal, dreamlike.
The moment feels like it can last forever, but the setting sun is taking the day's warmth with it. It's time to leave.
Back at my hotel, I'm attracted by a Tibetan-themed park nearby. Inside the Jiuzhai Songcheng Park stands a colossal Tibetan prayer wheel, two Tibetan-style watchtowers and a goddess of snow mountains.
The legend goes that the goddesses became lakes and Tibetan men became villages after their love angered the divine.
The watchtower offers a grand view of the mountains and the valley's dense forests.
We Recommend: