-Shimmering blue lakes, forests rich with new spring growth and lingering snow on the surrounding mountains make a walk through Jiuzhaigou Valley a fairy-tale experience, Deng Zhangyu discovers.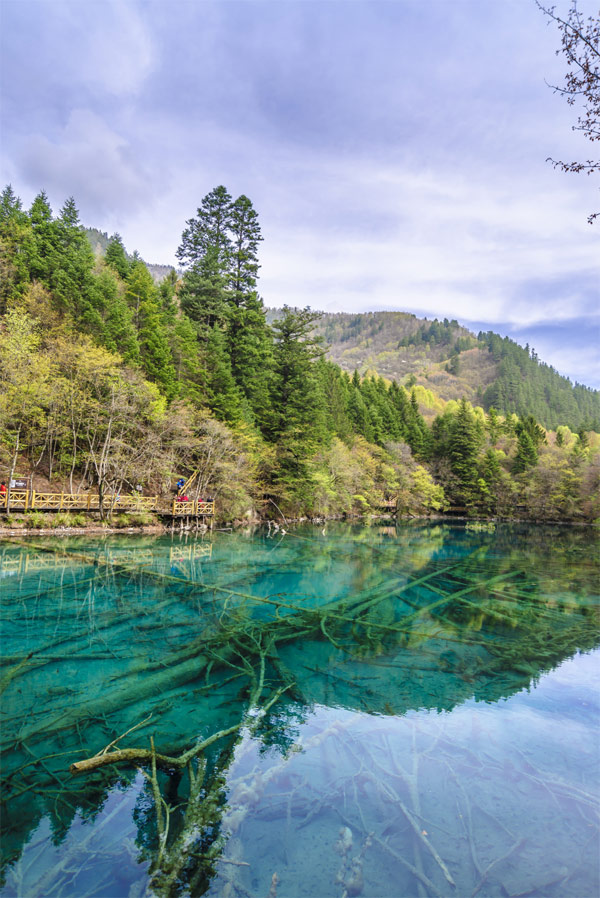 One of the 118 lakes in the Jiuzhaigou Valley glitters in the sun.[Photo/China Daily]
Before I arrive in the Jiuzhaigou Valley, I've heard that even a top artist cannot capture the colors of this heaven-like place in paint. When I see the clear turquoise lakes with my own eyes, I'm overwhelmed by the breathtaking colors—a work of art never touched by a painter's brush.
Getting out of the Jiuzhai Huanglong Airport, where the elevation is 3,348 meters, I am confronted by heavy snow when I am still in my T-shirt in early May. I quickly slip into my down jacket and jump into a waiting car.
The two-hour drive down the hillside to my hotel near Jiuzhaigou is made more thrilling every five minutes by a sharp turn. Although my nerves are on the edge from the swerving and the high attitude, I am entranced by mountains coated in snow in the far distance.
As we descend, the snow gives away to rain. The time I arrive at my hotel, 10-minutes' drive from the Jiuzhaigou Valley, the sun comes out and the temperature is once again like a spring day. As the sun sets against a blue sky just washed clean by rain, I realize that within two hours, I've experienced two seasons and three kinds of weather. It's an unexpected welcome gift.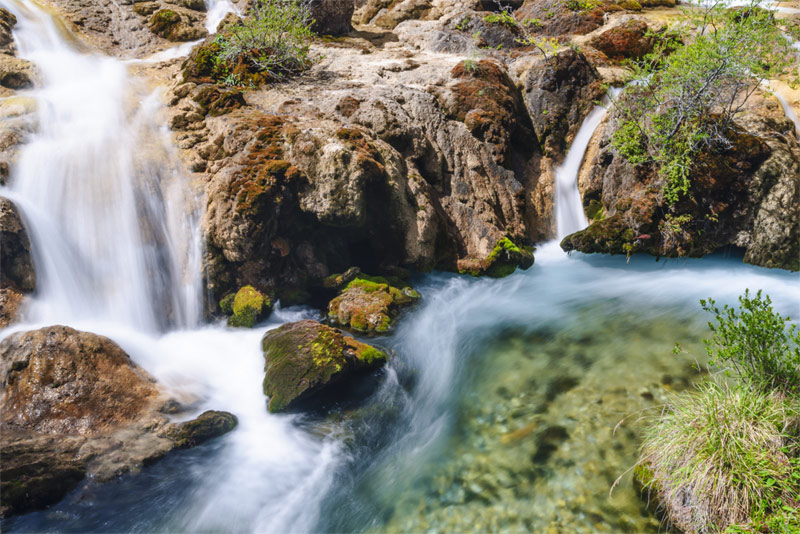 Rapids and waterfalls add to the countless lakes allure.[Photo/China Daily]
My exploration of the fairy-tale world starts early next morning, when the sky has just taken on an orange hue. I head out early to get ahead of the flow of tourists into the valley.
Jiuzhaigou Valley takes its name from nine Tibetan villages inhabiting the Y-shaped area. Green, blue and yellow lakes dot its length. In the local language, lakes are called haizi, and the waters change color with the seasons as the dense forests around them don their spring-to-autumn tints.
I feel the magic when I encounter a narrow lake thick with reeds that flicker with the soft wind. The jade-colored lake splits into three parts as it winds among the spiky gray plants. Due to the high altitude of about 2,140 meters, the reeds here are not tall. Sometimes birds nesting in the reeds fly up to the sky, breaking the quietness.
As I walk on, lakes of different shapes and colors come one after another. The blue Double Dragon Lake has its two gray strings of barrier rocks under the lake. The Tiger Lake is colored in animal-like stripes when surrounding trees reflect on the water. The emerald-green Rhinoceros Lake is 2 kilometers long.
We Recommend: