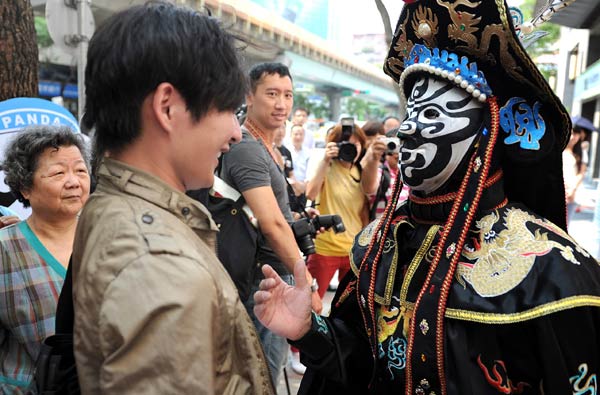 A face-changing artist in Taipei performs for tourists at a Chengdu Municipal Tourism Administration event to promote the city's folk customs in July. In face-changing performances, artists repeatedly quickly change the masks they are wearing. (Source: China Daily/Tao Ming )
Businessman Josh Lin has always found it difficult to buy a ticket to fly from Shanghai to his hometown in Taiwan during the Spring Festival holiday.
Lin, 38, who works in finance in Shanghai, says he always tries to buy an air ticket as early as September, more than four months ahead of the Spring Festival — which starts this year on Jan 31, the New Year's Day of China's lunar calendar.
"More Taiwan people are working on the mainland, and more mainland tourists are traveling to Taiwan during the New Year's break," says Lin, who has been working on the mainland for seven and a half years.
The travel should be easier this year, with many extra flights planned during the festival.
The mainland and Taiwan have agreed not to set any limits on the number of cross-Straits flights added during the Spring Festival to deal with the travel peak, said Fan Liqing, spokeswoman for the Taiwan Affairs Office of the State Council.
Airlines based in the mainland and Taiwan are set to operate 105 extra flights each during the period out of Shanghai Pudong International Airport. This will be more than double the figure from the previous year, Fan told a news conference on Dec 11.
Direct air and sea transport and postal services between the mainland and Taiwan were opened on Dec 15, 2008. Previously, all such services had to be routed through a third place.
The direct flights ended a stalemate across the Taiwan Straits that started in 1949, when the Kuomintang army, led by Chiang Kai-shek, was defeated by the Communist Party of China, resulting in the founding of the People's Republic of China.
For Bennie Chen, who was born and raised in Taiwan, the mainland used to exist only in her parents' stories. Her parents moved to Taiwan in 1949, but all their relatives stayed on the mainland. Chen has been visiting them every year for the past two decades.
To visit Shanghai for the first time in 1993, she had to change flights at Hong Kong, and the whole journey took almost a full day.
The distance between Taipei and Shanghai has been shorter since 2008, when both sides approved direct flights. Chen, who is a chief operating officer at a boutique hotel in Shanghai, says the direct flights take only two hours.
The mainland authorities have been continuously boosting cross-Straits ties since the CPC elected its new leadership in November 2012.
we recommend: