Jiuzhaigou National Nature Reserve lies in Jiuzhaigou County, northwest of Sichuan Province in the southern part of Minshan Mountains, approximately 400 kilometers from Chengdu City. Established in 1978, the Reserve covers an area of 60,000 hectareswith its name stemming from 9 Tibetan villages nearby.Luxuriant forests and snow peaks in Jiuzhaigou make it a spectacular gem of nature. Jiuzhaigou is a comprehensive nature reserve, its main protection targets are pandas, other rare wildlife and forest ecosystem. In 1992, it was listed in the World's Natural Heritage, and three years later, it was included in the International Man and Biosphere Reserve Network of UNESCO.      

 Climate
The climate of the Reserve is a transition of northern sub-tropic and warm temperate one. It is cool temperate, being especially damp and cold on the higher mountain slopes and cool and dry in the valleys. It is low in temperature in the spring and mean temperature varies from 9°C to 18°C. Mean temperature is around 19°C to 22°C in the summer. It is pleasant in the autumn with a temperature of 7°C to 18°C, but it is rather cold in the winter with a mean temperature of around 0°C. Total annual rainfall is no more than 600 millimeters and the rainy season usually runs from July to August. 

 Physical Features       
Lying on the edge of the diverging belt between Sichuan Basin and the Qinghai-Tibet Plateau, Jiuzhaigou is geologically the high altitude karst landforms that have been strongly influenced by glacial, hydrological and tectonic movement. As a branch of the source of the Jialing River, part of the Yangtze River system, Jiuzhaigou is a magnificent valley extending over 60 kilometers with a complex landscape. Along the valley, there are 108 plateau lakes of different size and shape, many of which are classic ribbon lakes at the base of glacially formed valleys. Among them the Nuorilang Lake is most famous for they are stepped lakes in which crystal clear water cascades from one tier to the next, producing melodious music in the process. Lakes in Jiuzhaigoun are called by the locals "haizi", which means "sons of the sea".  

 Biological Features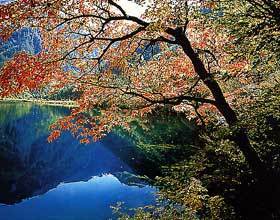 Multiple and complex geological changes throughout history resulted in the unique landscape of the Reserve, in which primitive forest covers an area of over 200 hectares. Vertical distribution of the natural vegetation is kept intact with the altitude varying from 2,000 meters at the entrance to 4,700 meters at its peak. With the increase of the altitude, there appears vertical difference of vegetation types, corresponding to variation in temperature and moisture. Between the altitude of 2,000-2,400 meters, oaks, birches, poplars and other broadleaved trees and Chinese pines, firs and other conifers grow densely in coniferous and broadleaved mixed forest. Between the altitude of 2,400-3,200 meters, firs and Fragesia denudata grow well in coniferous forest. At the altitude of over 3,200 meters, Korean pines, firs, dragon spruce and other precious tree species as well as medicinal materials such as Cordyceps sinensis and tendril-leaved fritillary bulb grow in the alpine shrub. The Reserve is not only rich in plants but also in animal species, among which there are rare species such as giant pandas, golden monkeys, Takins, lesser pandas, otters and swans.