Here's how transit visitors might enjoy three days in Xi'an: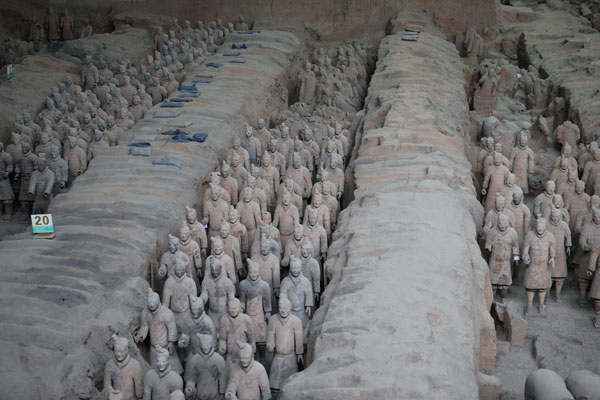 The Terracotta Warriors and Horses Museum draws most tourists in the historical city.[Photo by Wang Jing/China Daily]
Day 1: Terracotta Warriors
Many consider the Terracotta Warriors and Horses to be the most significant archaeological excavations of the 20th century. Discovered in 1974, work is ongoing at the site near Emperor Qin Shihuang's Mausoleum in Lintong district. It is a must-see for any visitor to China.
Since the Terracotta Warriors and Horses Museum opened to the public in October 1979, it has attracted more than 200 global dignitaries from abroad.
The museum covers an area of 16,300 square meters, divided into three excavation pits. Altogether over 7,000 pottery soldiers, horses, chariots and weapons have been unearthed from the three pits housed at the museum.
The archaeological marvels put Xi'an on the map for tourists from around the world, and it was listed by UNESCO in 1987 as a World Cultural Heritage Site.
After seeing the ancient ceramic army, you can go to Mount Lishan, a scenic spot nearby. Wandering in the scenic royal garden at the foot of the mountain, you can wash away your travel fatigue in the Huaqing Hotspring, a royal bathhouse built 3,000 years ago.
We Recommend: