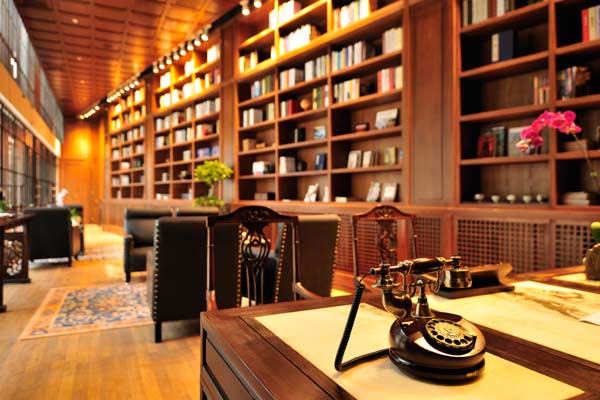 Prince Qing's Mansion is a place to take a peek into the past and savor the moments. [Photo provided to China Daily]
When renovation started in 2011, the terrace of the mansion was teetering and many of the decorations and furniture were missing or had been destroyed, Feng says. "Like an old man with severe bone rarefaction, it could have collapsed any time. So the first thing we did was to strengthen its tendons and bones ...We treated it just like we treat senior citizens, with respect."
The walls, floors and terrace were reinforced to ensure safety. The red paint added to the original coloring on the wooden floor, the staircase and the windows were peeled off. The artificial hill, an important legacy of Qing Zaizhen that was partly destroyed in the Tangshan earthquake in 1976, was restored to the original shape of a dragon, according to the recollections of the descendants of Zaizhen and Xiaodezhang.
"This is our approach to the theory of 'restoring the old as the old'," Feng says. "After careful evaluation of different periods, we decided to restore it as it was in the Zaizhen period, because this is the only princely mansion in Tianjin and we wanted to highlight that."
A modern fire extinguishing system was installed in the mansion, and water and power supplies were restored. Individual air-conditioners were replaced with central air-conditioning that vents underground instead of spoiling the facade of the building.
While the mansion caters to a lively social life with its dining and conference facilities, the adjacent townhouses, legacies of the former British concession, make a perfect escape from the urban milieu. The 16 villa suites and 17 townhouses for long-term rent all come with independent courtyards. The hotel is managed by CCA, a leading international club management company.
When the renovation of the townhouses began, there were suggestions to tear down their inner structures and convert them into apartment buildings to fetch more profit. But Feng and his team refused to do so.
"The true value of old houses is more than money. They symbolize the lifestyle of a city," Feng says.
We Recommend: