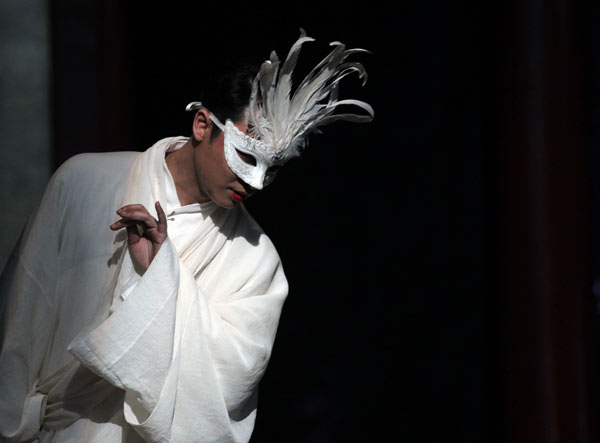 The 300-year-old Zhengyici Theater revives performances of varied genres, ranging from traditional repertoire of Peking Opera to concerts of Chinese traditional instruments and modern dance. Photos by Zou Hong /China Daily
Peking Opera master Ma Yuqi will never forget the production of Mei Yu Pei he saw in 1958. It has long been his dream to return the classic to the stage, and now he has found the perfect place. Chen Nan reports.
Ma Yuqi will never forget the moment in 1958, when as a student at the National Academy of Chinese Theater Arts he watched the classic Peking Opera Mei Yu Pei for the first time. Originally a Kunqu Opera, it was adapted into Peking Opera and had been performed since the late Qing Dynasty (1644-1911). The exquisite costumes, accessories and interesting story deeply impressed Ma. However, it was to be the last time Mei Yu Pei was performed for many years, as the "cultural revolution" (1966-76) was soon to sweep through the country.
The opera was reproduced in the 1980s by Peking Opera troupes from Tianjin and Taiwan. However, the productions were lackluster and feedback was poor.
"It has been lingering in my mind and it's a real pity if we lose the show forever," says Ma, 76, a Peking Opera master known for playing young male and female roles. He had been based in Hong Kong and Taiwan for 16 years before returning to Beijing in the 1990s.
About a year ago, Ma was invited to perform at the 2014 spring season of Zhengyici Theater, a historical relic with more than 300 years of history. Upon seeing the theater, he raised the idea of resurrecting Mei Yu Pei for the stage.
Like many traditional Peking Opera works, Mei Yu Pei is composed of eight episodes, "just like today's TV series", Ma explains. Peking Opera was once the primary entertainment of ordinary people. "Instead of sitting in front of the TV, they came to the theater every day, looking forward to the next episode," Ma says.
we recommend: