Chengzhi Hall 承志堂
Situated in Hongcun Village of Yixian County in Anhui, the Chengzhi Hall was built around 1855 some 140 years ago as a private residence of the famous Qing Dynasty salt merchant Wang Dinggui. The brick-wood-structure building has a total of 9 yards of different sizes, full layer 7 floors, 60 rooms of various sizes and 60 doors, covering an area of 2,100 square meters, with the building area being 3,000 square meters. The brick, wood and stone carvings of the building are exceptionally exquisite. It is said that the cost of building the Chengzhi Hall was 600,000 liang of silver and all the woodcarvings were finished by 20 craftsmen in 4 years.
Wang Family Grand Courtyard 王家大院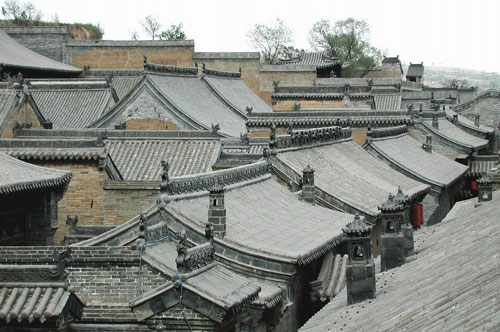 Acclaimed as the "First Folk Residence in Cathay", the Wang Family Grand Courtyard is the largest-existing folk residence cluster in China and a model of the merchant family's residence in North China's Shanxi Province, demonstrating the quintessence of Chinese architectural art and cultural values. This luxurious residence covers about 34,450 square meters with 123 compounds and 1,118 rooms. The whole compound incorporates garden art and courtyard building techniques under the premises of conforming to social institutions and practicality. The outline, the intervals, and every other detail of the compound jointly present an elaborate work of Chinese folk residence.
Prince Gong Mansion 恭王府
Prince Gong's Mansion is Beijing's largest and the best preserved Qing Dynasty (1644-1911) princely mansion and is located at Qianhai Xijie. The dwelling is a traditional courtyard mansion of a style that was so popular in imperial Beijing. The complex covers a total area of 61,120 square meters. Just over half of this is the residential portion, while the remainder is devoted to an ornamental garden to the rear. These grand and exquisite buildings are a poignant reminder of the pageantry and splendor that was so much part of China's imperial past.
We Recommend: