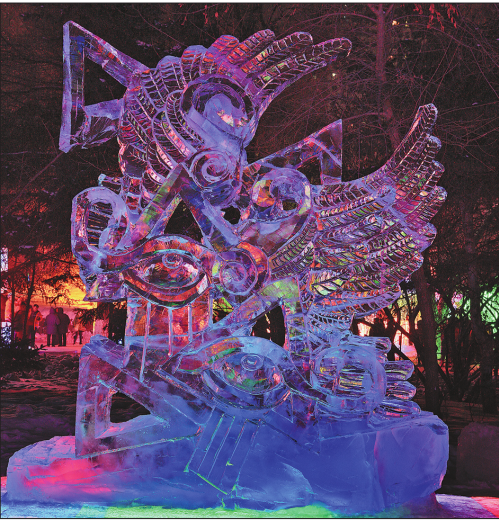 A spectacular ice sculpture at the show.[ZHANG DAFANG/CHINA DAILY]
CHARMS OF HISTORIC, MULTICULTURAL CITY
Harbin's long history and splendid culture date back at least to the Palaeolithic era and cave site at Jiaojie town where there was primitive human activity 175,000 years ago. In Yanjiagang, old campsites indicate that Harbin's ancestors labored and lived there 22,000 years ago.
Harbin is also the cradle of the Jin and Qing Dynasties.
The Jin Dynasty (1115-1234) established its capital in the city, today known as Acheng district, a name from the Manchu language that means honor.
It is also a city with a strong exotic flavor from the combined cultures of northern ethnic groups. It fused the Eastern and Western culture and is the only city in China where Buddhism, Taoism, Catholicism, Islam and Orthodox Christianity coexist.
It has established friendships with 31 cities in 26 countries and regions.
Known as "ice city and summer capital", Harbin has four distinct seasons and ranks second in the nation's top tourism cities.
It has 58 A-level tourism scenic spots, 13 S-level ski resorts, 86 star hotels and 307 travel agencies.
It is an international tourist city with beautiful scenery and distinctive European style.
In particular, the charm of its ice and snow tourism attracts numerous foreign guests.
Yabuli Ski Resort has become a well-known ski resort.
Yet Harbin is also a cool and pleasant summer resort.
Events include the Harbin Economic and Trade Fair and the Harbin Summer Music Concert.