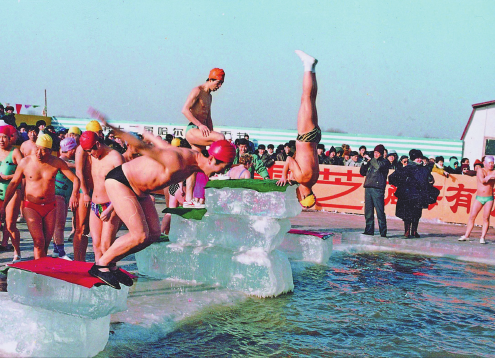 Tourists joined a winter swimming competition during the festival.[ZHANG DAFANG/CHINA DAILY]
Diverse shows
The Harbin Ice and Snow World is one of the world's biggest ice-snow theme parks.
As night falls the ice comes alive in a sea of lanterns.
Opened in 2000, it is one of 35 strategic tourist destinations selected by the China National Tourism Administration.
As well, the Sun Island International Snow Carving Art Expo is a world-class art palace of winter creations.
Dating back more than 20 years, it now covers 600,000 square meters.
The 26th expo used 100,000 cubic meters of snow to turn the park into a fairytale world.
"All the carvings are lifelike and vivid art," a visitor said.
"Combined with latest 3D ground-painting technology, the colorful and expressive carvings are impressive to all tourists."
As the birthplace of ice lantern art, the Harbin Ice Lantern Art Show is another distinctive and beautiful tourist attraction.
Started in 1963, the 40th art show used 20,000 cubic meters of ice and included a piano, hot pot, post office, magic cube, moving car and maze-all made of ice.
And the tourism industry has certainly seen the opportunities.
Property giant Wanda Group is investing more than 20 billion yuan ($3.25 billion) to develop the biggest cultural tourism project in northeastern China.
Harbin Wanda Cultural Tourist City includes five five-star hotels and the nation's biggest world-class indoor skiing park. Another example is Malaysia Jianrong Group, which has invested more than 8 billion yuan to build the Harbin Global Ocean Theme Park in the Songhua River Summer Resort.