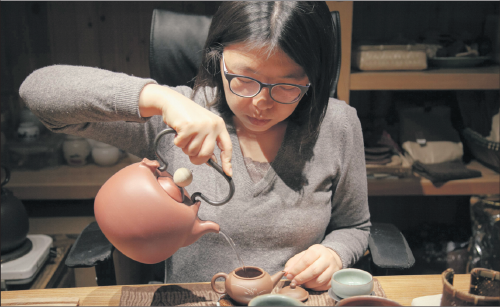 Yu Ning brews her favorite tea at home. The tea lover spends her holidays traveling from Beijing to the countryside in Fujian province to help a tea-growing family pluck and process tea and sell their handmade products in Beijing.[FAN ZHEN/CHINA DAILY]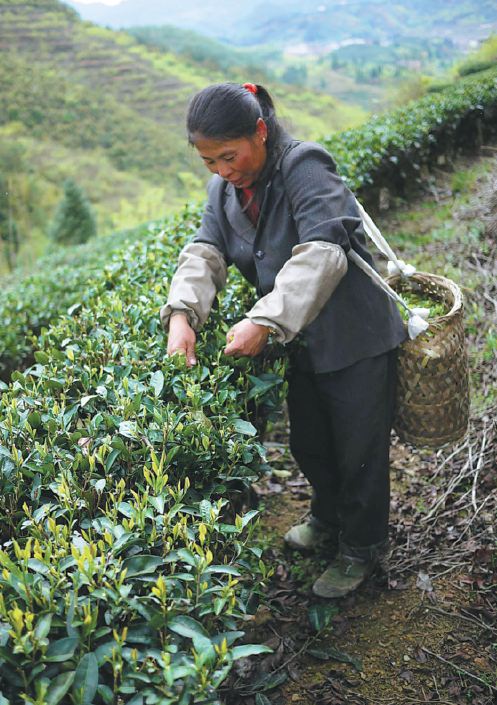 A tea grower in northern Fujian province picks tea leaves. The leaves harvested range from unopened buds to the top three leaves.[China Daily]
Growing and harvesting precious leaves in northern Fujian province is a labor of love-and commands a premium price, Fan Zhen reports.
Yu Ning believes that handmade tea can store memories between people and nature.
"The different nuances in tastes actually record the changing weather, locations and even the tea makers' moods and manual methods."
This is the third year that Yu, an office worker in Beijing, has traveled from the capital to the countryside in northern Fujian province to help Ma Lilu's family pluck and process tea and sell their handmade products in the city.
Her colleagues sometimes joke that she could just have the tea mailed and look after the business in Beijing. There is no need to spend all of her annual holidays trekking in the field.
Being a tea seller is obviously not all Yu wants. "It's only a necessary link in the whole circle," she says.
Three years ago she was just a regular tea lover seeking a healthier lifestyle.
She knew tea's varieties, health benefits and had stacks of tea sets, but had only the faintest idea about the natural habitat and human efforts behind the scenes.
"Tea was more of a consumption concept for me," she says.
When she met Ma for the first time, she was surprised by his dilapidated home, because his daughter works for his brother, owner of a chain of tea shops at Maliandao, the biggest tea market in Beijing.
"I thought with their connections they should at least be well-off-because for the handmade tea of this quality, the retail prices can shoot to 5,000 yuan ($821) per kilogram in the city."
Ma's family has been growing tea for more than three generations. Because of their limited income, they haven't opted for mechanization yet and thus preserve the most traditional tea-making craft: from plucking and withering to rolling and heating, everything is done by hand.
Ma lives in one of China's biggest tea-production provinces where tea is a traditional business for most households. Each year tons of tea leaves are outsourced from this small piece of land that enjoys a warm climate, abundant rainfall and a hilly landscapes that provide rich yellow and red soil suitable for growing tea.
Sellers pay a premium for batches picked from older plants or, even better, from wild tea trees. But usually they only pay for the common batches at the end of the year.
This makes life difficult for the traditional tea farmers like Ma. As the booming tobacco industry makes its foray to rural areas, a lot of farmers are now growing tobacco instead for higher and more immediate profits.