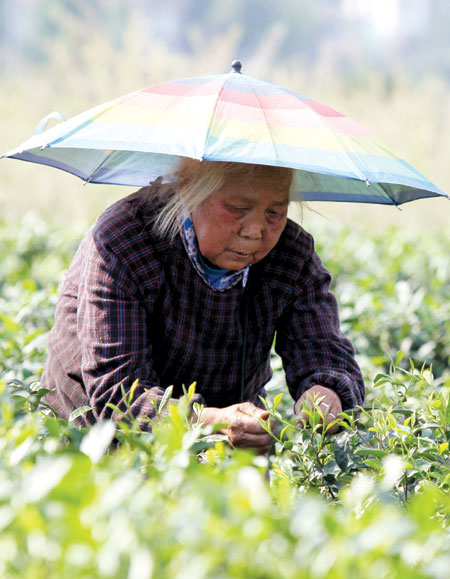 Chen Shujie, 70, picks tea leaves at her tea field in Mingshan county, Sichuan province. (Zhu Xingxin / China Daily)
Fields of fresh tea leaves are waiting to be picked in Mingshan county, which has a 2,000-year-old tea planting history. But, tea farmers have no time or energy to harvest them after a sudden quake devastated their homeland.
Located near the epicenter of Lushan county in Sichuan province, Mingshan county has about 20,000 hectares of tea fields. During the peak season of tea picking from March to May, the large-scale plantations usually hire more than 50,000 workers from outside the county, says Yang Yongxiang, director of the county's tea industry development bureau.
"Workers have gone back to their hometown for safety reasons. And it's hard to call them back when we are still coping with trouble ourselves," says Yang.
Mingshan county is the origin of the ancient Sichuan-Tibet tea-trading road, the earliest and busiest of three tea-trading roads. The tea produced on the Mengding Mountain in the county has been offered to the emperors since AD 742 during the Tang Dynasty (AD 618-907).
According to records, Wu Lizhen, a native of the area, was the first tea grower on Mengding Mountain. He grew seven tea trees during 53 BC.
Most people in the county are involved one way or another in the tea industry.
One of them is Yang Dejun who continues picking tea leaves in his fields even though the heat from the sun burns his skin. He says his crops have decreased by 20 percent, not because of the quake but because the shoots were burnt by frost.
"We've missed the best time to pick the best quality tea leaves. But we have been busy repairing our houses," says 37-year-old Yang.
A few meters from him is Huang Yunqin, who is also busy harvesting tea leaves. Huang has a small umbrella above her head. She is helping her sister at the tail end of the harvest period. Her day starts at 6 am and ends at 6 pm. She is rewarded with 3 kg of tea at most, for her 12 hours of work.
"They are really in need of extra hands. I traveled from Chengdu at the beginning of May," says Huang. Chengdu is about a two-hour drive away from Mingshan county.
Both Yang and Huang are hard at work at the Wangu township in the county, where 95 percent of the population are tea farmers.
Many tea farmers are still repairing their houses, which were destroyed by the April earthquake.
"We need two months for life to return to normal, both for our tea farmers and the tea-related companies," says Xiong Bibo, a Party leader in Wangu township.
We recommend:
| | | |
| --- | --- | --- |
| | | |
| | | Truly global vocabulary needs 'untranslatable' Chinese terms |
Special Coverage: