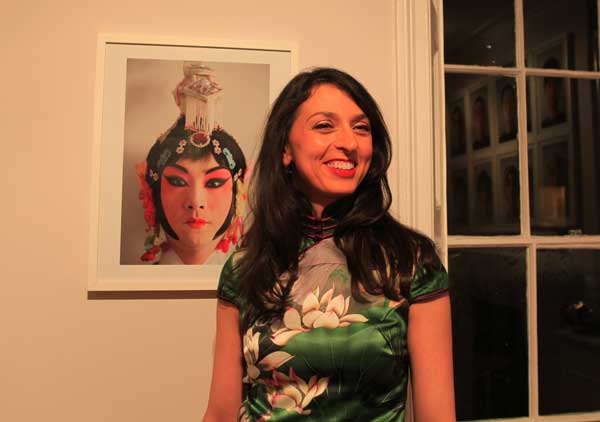 Shavrova with one of her photos at the exhibition held in London. Cecily Liu / China Daily
A Russian-Irish artist's photographs of Peking Opera give a contemporary voice to the ancient art form.  Cecily Liu reports in London.
Varvara Shavrova believed she was looking at one of the most beautiful women she'd ever seen. But she was wrong.
Not about the beautiful part. About the woman part.
The Russian-Irish artist and curator was stunned when Chinese friends told her the female Peking Opera character onstage at the teahouse near the Forbidden City was actually a man.
"I said 'No'. And they said 'Yes'. And I said 'No'—and still couldn't believe it," she recalls.
But that wasn't all that captivated her about the show.
"I loved the costumes, the makeup, the movements and how it can be formulaic in its own language," Shavrova says.
"You can compare it to contemporary art."
This initial fascination prompted the Russian-Irish artist and curator to research Peking Opera's history, understand the actors' lives and document their preparations and performances in her London exhibition The Opera.
Peking Opera was initially an exclusively male pursuit, with female characters played by male actors since Emperor Qianlong (1711-1799) had banned all female performers in 1772.
Although the ban was lifted in 1912, the tradition of males playing female roles continues.
This requires actors to put on layers of makeup and costumes, and heavy headdresses, which Shavrova says are almost like "helmets".
She photographed actors getting dressed, in sets of eight, to show the gradual transformation.
For example, the first picture of a series features a man without any makeup. The next few show the man applying layers of heavy makeup and putting on a head cloth to cover his hair, followed by an elaborate headdress with beautiful decorations. In the last few photographs, the character's femininity emerges.
The final shot shows what appears to be a woman with long hair, delicate facial features and a soft gaze.
The exhibition also displays a large-scale projection of a 17-minute film demonstrating Chinese opera and two plasma screens showing five-minute time-lapse videos.
The exhibition was originally commissioned by and shown at the Espacio Cultural El Tanque in 2011—an old oil depot on the Spanish island Tenerife. It was shown in 2012 at the Ballina Arts Center in Ireland and this year at the Patrick Heide Contemporary Art gallery in London.