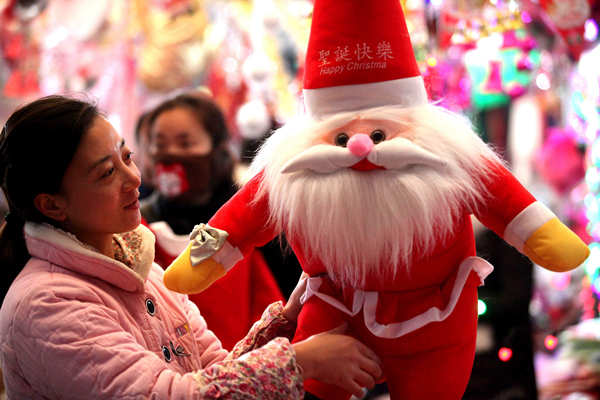 A customer chooses a doll for Christmas at a market in Bozhou, Anhui province. (China Daily/Liu Qinli)
While there is no shortage of Christmas-themed parties and nightclub events this month in Shanghai, foreign and even inflatable Santas are starting to make their presence felt around the country. In some cases, such interpretations represent a mishmash of cultural influences that may seem bizarre to those in the West.
Last Christmas, the Washington Post published a blog entry asking why so many Santa dolls in China are depicted playing the saxophone. Local netizens replied that the instrument suited Santa's globe-trotting image as it is foreign, romantic, cool and portable.
More recently, CNN ran a pictorial story showing a giant inflatable Santa doll outside a mall in Taiyuan, the capital of Shanxi province. In this case, Santa's dress was shown to be blowing up a la Marilyn Monroe in the film The Seven Year Itch. CNN also drew attention to a 10-meter-high Christmas tree in Jiangsu's Changzhou made using more than 1,000 beer bottles.
In contrast, the newly opened Lane Crawford department store on Shanghai's Huaihai Road, a commercial Mecca for luxury brands, has created a somewhat alienating winter tableau outside its main entrance by placing a white, geometrically shaped reindeer and polar bear there.
Most five-star hotels and international schools rely on their foreign staff to act the role of Santa at special events, but department stores, kindergartens and outdoor markets increasingly offer struggling foreign students a means of earning some extra cash to tide them over.
Expats here can earn 500-1,000 yuan ($82-165) per day playing Santa, according to a Kazakh student called Dalel at Shanghai University of Finance and Economics. Dalel, who was interviewed recently by Shanghai Morning Post, says he earned 4,500 yuan for nine days' work at a Christmas market on the Bund, and was subsequently offered similar gigs from other agencies, as were his friends.
IAPM, a new luxury mall in the downtown area, also hired a foreigner to don the red robes last weekend for its Christmas tree-lighting ceremony.
We recommend: