In the Heat of the Sun
Chinese actor and director Jiang Wen appeared once more at the Venice International Film Festival in August this year, this time as a juror. This annual event has marked milestones in his career: in 1994 Venice conferred their Best Actor award on Xia Yu, then aged 17, for his role in Jiang's directorial debut – In the Heat of the Sun. Time magazine rated it one of the 10 best films of the year, applauding its original theme, and its cinematic narrative heralding a new era in China's film industry. Adapted from the Wang Shuo novel Ferocious Animals, In the Heat of the Sun recounts the growing pains, losses and decadence of a group of Beijing youth during the chaotic "cultural revolution" (1966-1976). The film rolls out in a discursive fashion, with every shot selected seemingly randomly, yet in fact richly loaded. Images, ranging from loudspeakers blaring revolutionary lyrics to streetside walls plastered with revolutionary posters, add up to rebuild lively scenarios from that segment of history.
Such striking realism, as evocative as sepia-toned photographs in family albums, awakens many Chinese viewers' memories of their own experiences in a time of chaotic social and cultural geography, which the film aptly conjures.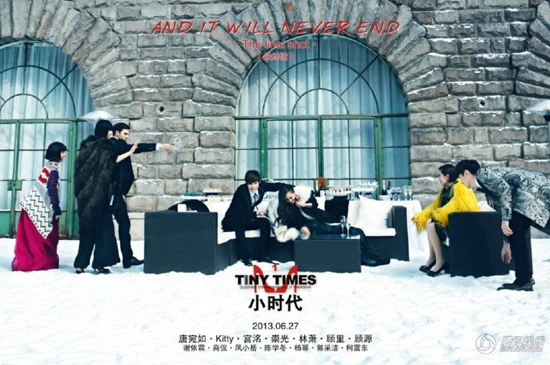 Tiny Times
We recommend: