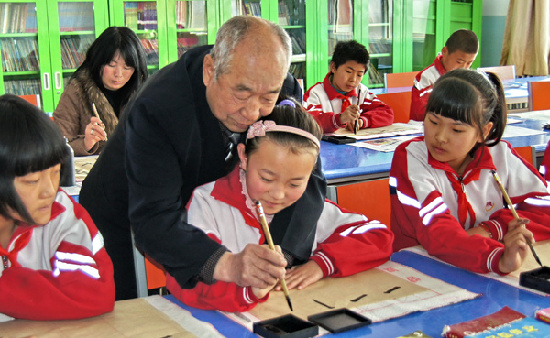 Chen Guokun, 72, teaches a student how to use a calligraphy brush at a primary school in Hohhot, the Inner Mongolia autonomous region, in March. Chen is a retired teacher but has volunteered at the school for more than a year.
Middle-aged and elderly workers who are unemployed and still willing to work face age discrimination when they try to find a job, said a senior official of elderly people's affairs on Thursday.
The average retirement age for Chinese employees is 53, said Chen Chuanshu, deputy director of the China National Committee on Aging, at a Beijing conference on volunteering opportunities for retirees.
"Most enterprises prefer to hire young people. Many seniors were forced to leave the employment market not because they are incapable of working or their knowledge is outdated, but because of social prejudice and discriminatory regulations," he said.
China's rapidly aging population and the relatively early age at which people retire will place greater pressure on the economy, he warned.
China has more than 200 million people who are 60 and older this year. A report from the United Nations Development Programme in August predicted that those over 65 will account for 18.2 percent of China's total population in 2030, given this year's rate of 9.1 percent.
Social participation, especially in the workplace, is a vital way for the elderly to obtain more financial resources and a sense of achievement, in addition to reducing their economic burdens, Chen said.
The legal retirement age in China is 60 for male workers and officials, 50 for female workers, and 55 for female officials. Chinese leaders decided during the Third Plenary Session of the 18th Communist Party of China Central Committee in November to gradually raise the retirement age. However, the specific reform plan has not been revealed yet.
At a news conference last Thursday, Vice-Minister of Human Resources and Social Security Hu Xiaoyi denied media speculation that the higher retirement age will begin with civil servants or blue-collar workers.
He said the government will pay more attention to the employment and training of the middle-aged and elderly and come up with better incentives to keep them employed.
One woman who wasn't ready to quit working is Shi Hui, who retired from the Beijing Research Institute of Mechanical and Electrical Technology in July at the age of 50 and then found a job as a saleswoman at a clothing shop.