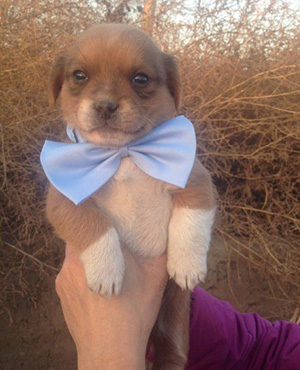 "Little Tie" when he was found in a Beijing suburb on 21 November, 2013. [Photo provided to chinadaily.com.cn]
'Little Tie' is a two-month-old puppy. His two siblings have already been adopted, but Little Tie has still not found a home. "It's critical time now for Little Tie to find an adopter since he is still cute right now. It becomes more difficult as dogs grow up," said a volunteer surnamed Tang.
Miss Tang first saw the dog's pregnant mother on the sidewalk outside a vegetable fair in Beijing. "I fed her that day and after that she showed up in the same place at the same time every day," Tang said.
The dog disappeared for a month before suddenly appearing again, and the volunteers that were feeding her realized she'd probably given birth. All volunteers were overjoyed when they followed the lame dog to her den under an abandoned drainage concrete pipe and found she'd given birth to three puppies. "We could not image how they survived without any help," Tang said.
However, the volunteers have already adopted 20 dogs and no one was able to look after any more at home. "Nowadays our group has too many dogs to raise. They are already beyond our capacity, so we couldn't shoulder the extra burden." Tang said,
Tang's team is now advertising Little Tie on Sina Weibo, China's most popular twitter-like social media platform, to see if they can find him a home. If there is no taker, the dog will be taken to a regular adoption activity to see if someone would like to take him this Saturday near Sanlitun.
Miss Shao, another animal protection activist, is familiar with the pressure of saving those stray pets, as her help station is home to almost 30 cats and 70 dogs. "They cost me about 20,000 yuan ($3,273) a month for those animals," she said. Apart from more money, she said she is also short of helping hands.
"I could not stop when I adopted my first stray dog in 2000," Shao said, "Dogs need us when they are helpless."
"A lot of dogs and cats are abandoned in China nowadays due to people moving and people's lack of awareness about what's involved in keeping pets," Tang added.
"I hope Little Tie will be as lucky as his two siblings and find a cozy haven soon," she added.