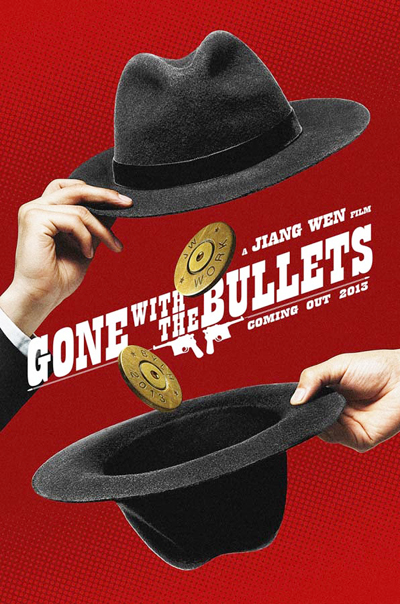 Poster of the film "Gone with the Bullets." (CRI)
The first still from Jiang Wen's new film 'Gone with the Bullets' has been released.
The film is set in Shanghai during the 1920s and features the film's director and actor Jiang Wen and actor Ge You as two adventurers named Ma Zouri and Xiang Feitian respectively. The two characters are childhood friends who know each other well. However, both lead mysterious lives before they start to make a living in Shanghai. After they arrive in Shanghai, the two become enemies and Xiang Feitian continues to hide three things from Ma Zouri, leading the two to drastically different destinies.
In the still, Jiang and Ge are both seen wearing handlebar mustaches and carrying trumpets on stage; however, their expressions hint at their different personalities. Jiang, pictured on the left, displays an exaggerated smile while he raises his leg in mid-air, while Ge appears slightly more restrained, smiling more shyly while striking a pose that mirrors Jiang's.
The still highlights that dancing and singing are key elements of the film. Director Jiang invited an American Broadway team to create the atmosphere of a 1920s dance scene on the set of the film.
The image from the still will be used on 5 million postcards and distributed in corresponding magazines as well as in 250 cinemas across China.
Filming for 'Gone with the Bullets' has gone smoothly since it kicked off last October. The film is scheduled to hit screens before the end of next year.
We recommend: