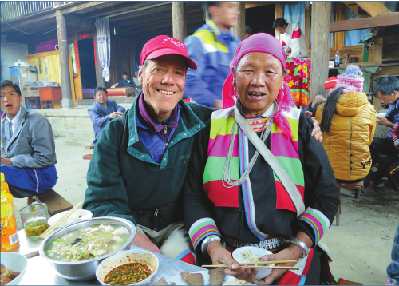 CHINA DAILY
Edward Grumbine attends a Lisu family's wedding in Yingjiang county in Dehong Jingpo and Dai autonomous prefecture.
He is a scholar from Arizona who thought the southwest of China would be a good subject to study. Since then, the research scientist at the Kunming Institute of Botany has been constantly surprised, he tells Hu Yongqi in Kunming.
To an environmental expert from the United States, Southwest China's Yunnan province is a rich field to explore, with its diverse geography and vastly varied flora, fauna and anthropology. After all, the province borders the snowy foothills of Tibet on the north and has the virgin forests of Xishuangbanna in the south.
In addition, it boasts the diversity of 25 ethnic groups.
Edward Grumbine, senior scientist at the Kunming Institute of Botany under the Chinese Academy of Sciences, has been here for five years and he has published a series of academic papers on conservation, environmental resource planning and policies.
One of his special areas of study is the ecological impact of dams along the Nujiang River in the western part of Yunnan.
In 2004, former Premier Wen Jiabao stopped the construction of dams that were planned along the Nujiang River after concerned groups questioned how the dams would affect the land and the people.
"I thought it would be very interesting to see the real Nujiang River so I booked a flight and flew here," says Grumbine. "Yunnan has a special diversity and I wanted to see it with my own eyes."
On arrival in Kunming, he stayed just one night in the city before rushing off to Liuku, capital of Nujiang Lisu autonomous prefecture.
"When I first saw the Nujiang River, I couldn't believe the landscape and how beautiful the valley was. Then I got over the mountain to the Lancang River valley. It was another special place," Grumbine says.
Since then, Grumbine has focused on the Lancang River, upstream of the Mekong River. He considers there is more at stake here because more people depend on the river than on the Nujiang and Jinsha rivers.
"I suggest conversations and cooperation mechanisms between the countries that the river flows through should be established. The sooner the better," he says emphatically.
As soon as Grumbine made the decision that he wanted to understand a lot more of what goes on between man and nature in this region, he plotted his course.
From 2005 to 2010, Grumbine visited Yunnan for three to six weeks every year. He initially received private funding from a Canadian donor, and later funded his own trips.
In 2010, he joined the Kunming Institute of Botany as a senior researcher.
In his eyes, Yunnan, still less developed and with virgin forest, has great scientific value in biological research.
In his four years in Yunnan, Grumbine has hiked the mountains and spent most of his time in the countryside meeting local people, even though he couldn't speak the language. Gestures help, he says, although he now has the benefit of learning from his new wife, a Chinese researcher he met at a symposium in Xiamen, Fujian province.
One of his favorite spots is Shangri-la, where he has made about 20 trips since 2005. With the help of local guides, he hiked the Potatso National Park four times and studied the impact of the park on local livelihood and how effective local government was in managing the park.
"I usually camp or go to the village with a tent and some clothes. In the US, you are either in hotel or in tents, you have to carry everything, including food and shelter. But the difference here is that I can visit and stay with the villagers. They would share food, clothes with me," he says.
Not everything is rosy, according to Grumbine.
Lured by better income, villagers in Xishuangbanna were planting rubber and the plantations were changing the natural landscape. "Much of the rainforest is gone and replaced by plantations, and 20 to 25 percent of the entire prefecture is changed," he says. Local residents may have better income but there is a lack of sustainable planning. There is more money now, but there are also problems with water and ecosystems.
"The price of rubber in the global market fluctuates, so people may not have that much money in the future. That's what the local government should pay close attention to."
Grumbine has been trying to outline a bigger picture of how protected areas should work and examine whether Chinese environmental laws are strong enough to guide sustainable development that can meet international standards.
Grumbine says policy-makers have adopted an "economy first" creed since the opening-up and reform.
"I don't believe economic growth is the only purpose. Environmental protection, education and healthcare also matter. The old systems do not work any more, so this is a good time to change, with the new leaders pushing for better, greener policies."
Grumbine's tenure at the institute ends next year, but he is leaving with one promise: "This amazing land will bring me back."
Contact the writer at huyongqi@chinadaily.com.cn.
We recommend: