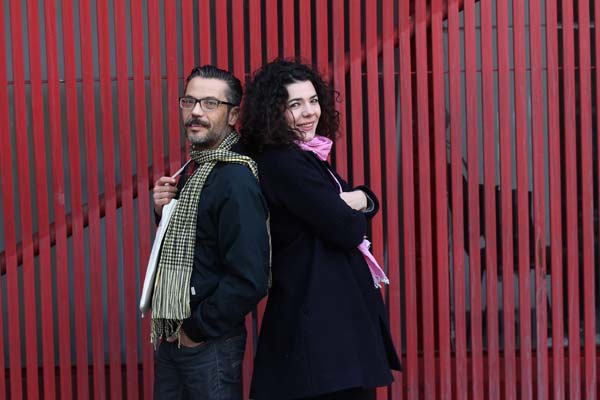 Leo de Boisgisson (right) and Pierre A. Blanc, founders of Dongdong Music Festival and Convention. Zou Hong / China Daily
Almost a decade ago, two French art-lovers discovered a new world of music independent of each other.
Leo de Boisgisson, a trained Sinologist in Paris and Yunnan University, found herself in Beijing when the city's punk music was in its heyday. She bought pirated CDs, especially in the Wudaokou area, when she moved there in 1998 to study at Renmin University. Soon, together with a bunch of friends, she founded 86/33 Link, a nonprofit association, which refers to the country codes of China and France.
Around the same time, Pierre A. Blanc, a veteran music producer and label manager, produced Chinese "godfather" of rock 'n' roll Cui Jian's first concert in Paris in 2001.
"It was crazy," says Blanc, who had become the music director of Parisian venue, Le Divan Du Monde, where he programmed thousands of bands.
Tickets were sold out in 30 minutes, he recalls, and 1,000 people were waiting outside that night hoping to get in. The show lasted three hours and people were ecstatic; even the French minister of culture attended.
That was Blanc's first taste of China. "It surely gave me confidence to promote Chinese bands, and at that time no one was really doing that," Blanc says.
A few days after the show, Blanc and De Boisgisson met for the first time in Paris and started to collaborate.
In 2004, they presented China Lab tour in Europe, featuring groundbreaking Chinese indie musicians like Wang Lei and rock band Tongue. A year later, they brought the TransMusicales Festival to Chaoyang Park in Beijing. Around a year ago, the two founded Kaiguan Culture, an extension of 86/33 Link, which promotes their ongoing projects between China and Europe with new people and new talents.
After more than 10 years, they realized there was no place for all the players to meet, learn and network. So they created the Dongdong Music Festival and Convention, which is held from Nov 7 to 10 in Beijing and includes a series of performances, conferences, workshops and talks.
"Beijing was light years away from Europe when I came here. I don't even know if we could talk about a market at the time," De Boisgisson says. "But times have changed. Now, China is definitely a priority for Western labels."
The name Dongdong, in fact, means "the East is moving".
Despite the huge market China offers for both local and international musicians, they think that there are currently too many gigs on offer.
"Lately there were some really good acts that didn't attract the amount of people expected. In these moments, I say to myself that finally Chinese youth prefer to put their money on iPad and designer clothes rather than on music. But this just might be a phase I hope," De Boisgisson says.
"We both thought that China was lacking an event, which is not only a festival but also a place for the music professionals to meet up and exchange," says De Boisgisson. "For those artists who want to have a life in China, in particular, we want to show them how the music market is working here."
Five conferences are scheduled in the day time, including "Facts and Fiction of the Chinese Music Market" by Ed Peto, who represents a range of Western music industry businesses in the China market.
Also on the panel is Shen Lihui, founder of China indie record label Modern Sky Records, veteran music producer Song Ke, former head of Warner Music China and now the head of Evergrande Music, which is running 30 outdoor music festivals across the country, and Robb Spitzer, the China manager of Live Nation, who brought the Eagles and Avril Lavigne to China.
At night, acts from Beijing and abroad, including Beijing-based rock band Nova Heart, pianist Francesco Tristano from Luxembourg, and soulful band St. Lo from New York, will share stages at live house venues, like Yugong Yishan.
"They will be playing in front of the people that rule the music game in China, festivals, distributors and labels representatives," De Boisgisson says.
"We hope Dongdong will become an annual meeting for musicians and music professionals," she says. "We want to generate real encounters and stress the quality of the content rather than the quantity."
We recommend: