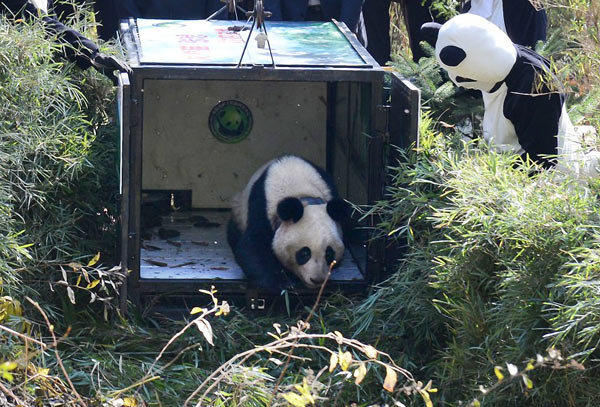 Zhang Xiang takes her first steps into the wild on Wednesday morning at Liziping Nature Reserve in Sichuan province. She was lured out by staff members of the reserve who dressed in panda costumes. The release of Zhang Xiang lasted only two minutes. Provided to China Daily
It didn't take long for panda Zhang Xiang to take her first steps into the wild.
Kept in her cage for four days before her release on Wednesday morning at Liziping Nature Reserve in Sichuan province, the 2-year-old panda had her hip facing the door when Wu Daifu, a panda expert, tried to let her out.
"She was getting more and more impatient after being kept in the cage for so many days and she was scratching the iron railings of the cage with her claws," said Wu, who dressed in a panda costume to lure Zhang Xiang out.
Despite her impatience, the panda was hesitant when the door opened, preferring to sit near the cage and look around. Eventually, after casually walking around for a bit, the third panda in China to be sent back to the wild ran and disappeared into the forests.
The release lasted just two minutes, but it was a moment panda handlers had waited 26 months for.
Soon after Zhang Xiang was born, handlers began preparing for her release into the wild by placing her and her mother, Zhang Ka, at a base larger than 30 soccer fields at Wolong National Nature Reserve in Sichuan.
"On Oct 23, the State Forestry Administration held a meeting for panda experts, who agreed that Zhang Xiang, who weighed 40 kg, could be released into the wild because she knew how to find food, water and shelter by herself," said Zhang Hemin, chief of the administrative bureau of Wolong.
Zhang Xiang is the third panda to be released by China into the wild in seven years.
Another panda that was released into the wild, Xiang Xiang, had a difficult time after his release.
Born in August 2001, Xiang Xiang returned to the wild at Wolong on April 28, 2006, after almost three years in captivity. On February 19, 2007, his body was found in the woods, with broken ribs and injuries to his ears and back. Researchers suspected he had taken refuge in a tree after fighting with wild pandas but had fallen.
Xiang Xiang's death forced handlers to revise their approach to caring for pandas and training them to survive in the wild.
After the birth of Tao Tao, the second panda to be returned to the wild in 2012, handlers changed tactics. They approached him and his mother, Cao Cao, dressed in panda costumes that had been splattered with panda urine.
"Pandas are very sensitive to smell. Costumes alone cannot make them believe people are their peers," Wu said.
Handlers took the same approach for Zhang Xiang, said Huang Yan, a deputy general engineer at Wolong.
Like Tao Tao's mother, Zhang Xiang's mother, Zhang Ka, was saved in the wild.
"She was born in August 2000, and she was saved as a sick panda in the wild in Zhangka gully in Baoxing county in March 2002. Thus she was given the name Zhang Ka," said Zhang Hemin.
Since Zhang Ka was raised in the wild, she is capable of teaching Zhang Xiang how to look for bamboo and water in the wild. She can also teach him to climb trees and hide in tree holes or stone caverns when other animals approach.
One reason for releasing Zhang Xiang into Liziping, a provincial-level nature reserve, is to add to its panda population. The reserve is home to 13 wild pandas, according to the third national panda census conducted in 1999 and 2000.
"Liziping has a very small panda population. A reserve with 50 to 100 pandas is regarded as one with a large panda population," Huang said.
Zhang Hemin does not rule out the possibility of Zhang Xiang meeting and possibly mating with Tao Tao. Zhang Xiang was released at a site only 7 kilometers from where Tao Tao was released.
But if they do, it will most likely take place in several years.
"A captive panda can reach sexual maturity when it's 5 and a half years old, and a wild panda only after the age of 7, because a captive panda has better nutrition," Zhang Hemin said.
Six panda cubs are being prepared for their reintroduction to the wild at Wolong. Two male pandas and two female pandas born this year are among them.
"We plan to send a male panda and a female panda together to the wild in 2015," Zhang said.
We recommend: