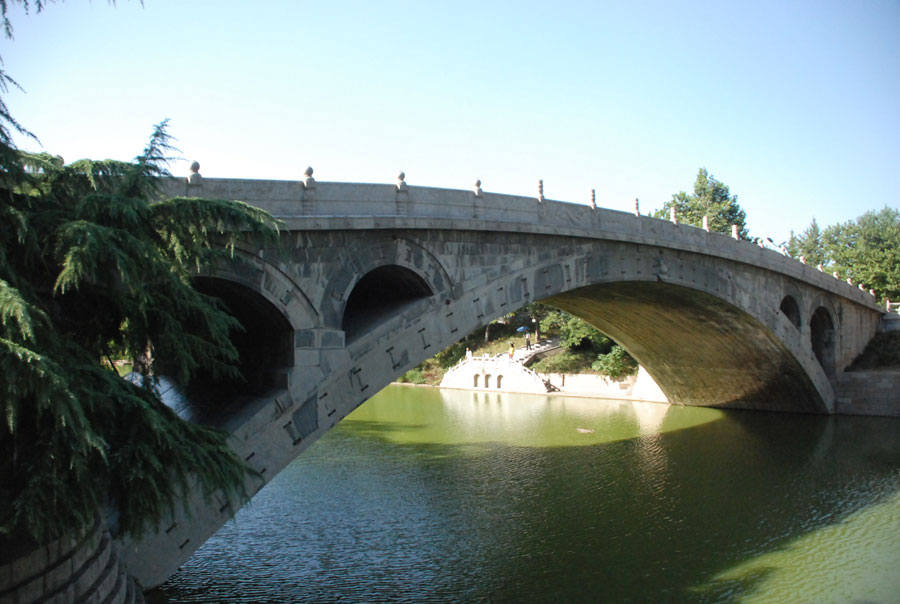 This photo, taken on August 29, shows the view of Zhaozhou Bridge in Zhaoxian County, north China's Hebei province. [Photo: CRIENGLISH.COM/ZhangPeng]
China's Zhaoxian County, where the ancient Zhaozhou Bridge is located, has signed a "Sister Bridge" agreement with America's Madison County, where the Roseman Covered Bridge is located.
As two of the most renowned bridges of the world, the Zhaozhou Bridge and the Roseman Covered Bridge boast rich cultural histories. The signing of the "Sister Bridge" agreement is expected to better promote the two bridges around the world.
Enjoying a history of 1,400 years, Zhaozhou Bridge was first built during the Daye reign (605-616AD) of the Sui Dynasty (581-618AD) by the designer Li Chun. The bridge took 11 years to complete. The bridge is distinguishable by its main arch which curves to a shallow arc and its original unique arch style profoundly impacted bridge construction in the future. It is the oldest standing bridge in China.
Built in 1883 over the Middle River and renovated in 1992, the Roseman Covered Bridge is a historic covered bridge in Winterset, Iowa. It is prominently featured in the novel The Bridges of Madison County, as well as in its film adaptation. It was added to the National Register of Historic Places in 1976.
We recommend: