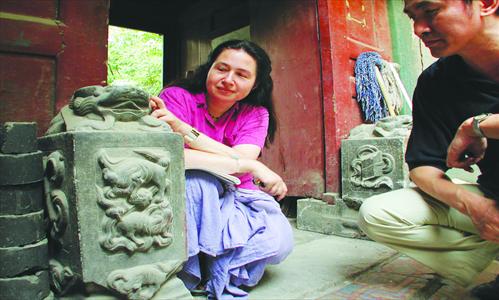 Hua Xinmin observes a pier made of stone that remains in an old Beijing hutong community.
Though it's been 16 years, 59-year-old Hua Xinmin still remembers the first time she saw old courtyard homes in Beijing being knocked down like it was yesterday.
Bulldozers blazed through Xidan, Xicheng district in Beijing, digging into the walls of traditional hutong or old courtyard homes, causing their bricks to fall down like rain. It was a shocking sight that had then touched a nerve close to home - hers - though she would not fully realize that for another seven years.
The year was 1997, and the housing preservation advisor born of French and Chinese parents had just returned to China from abroad, where the pale-skinned and blue-eyed Hua had been living in Paris since the age of 22. Surprised at the changing scenes of the city she grew up in, dismayed at the number of demolitions occurring across town, her will to protect Beijing's old neighborhoods was inspired from all the rubble around her.
"Old homes are the soul of every city, the architecture and culture representative of the city," she told the Global Times on Wednesday. "If you lose your home, how much longer can you bare (living)?"
Credited by some locals for "saving" two hutong communities in the city, Hua said that much of the knowledge used today to help hutong owners fight government-sanctioned development projects looking to rid of old neighborhoods, was learned from experience, when she attempted to prevent her original family home from being demolished in 2005.
Born and raised hutonger
With dark hair, the mixed-race Hua who said that she considers herself a "Pekingnese," fondly remembers the courtyard home she grew up in as a young child, the one that her very own grandfather, Hua Nangui, among the first Chinese students to study abroad in the Qing Dynasty (1644-1911), built himself in the 1920s.
"Our home was almost like a small architectural replica of nature itself," said Hua, who continues to live in a traditional Beijing dwelling today at Sui'anbo Hutong.
"With the open air rushing in from the courtyard, and grass and flowers all around, living there was such a happy time as a child - it's very different than living in a tall building; people who live in apartments today probably can't imagine that kind of happiness."
Hua has the documents to prove that it was her family's home before the Cultural Revolution (1966-76). But the residents who subsequently occupied the home and agreed to be compensated some 200,000 yuan ($32,680), like many of their neighbors, to let Beijing planning authorities tear down Wuliangdaren Hutong (later renamed as Hongxing Hutong before it disappeared) in Dongcheng district, to make way for a new luxury commercial street, Jinbao Jie, has made it hard for her to convince authorities to recover her family's losses.
We recommend: