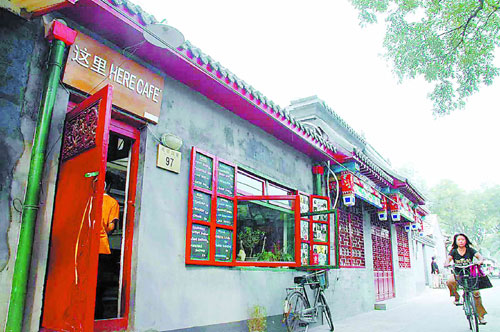 BEIJING wasn't always called Beijing. During the Yuan Dynasty (1271-1368) the capital was known as Dadu, and it was under the Yuan that the urban design of present-day central Beijing took shape. A rectangular street grid emanated out from the center, where a grand palace – later the Forbidden City – was located. Residents lived in courtyard homes that lined hutongs – narrow alleyways that sprung up inside the grid.
Seven hundred years later, hutongs are still the vibrant soul of community life in central Beijing. Residents sleep within the courtyards – designed for privacy – but spend their lives in the alleyways.
A hutong neighborhood is all about people, and so perhaps is a good place to set up a business that's also all about people. Ben Leary certainly thought so soon after he founded his executive search business, Column Associates, in 2009. "Our clients are people and our suppliers – the talent – are people as well. Like life in the hutongs, it's all about building relationships," he explained.
"Like most Western firms in China, we started off in a serviced office, but soon moved into a renovated hutong home. We love the intimacy of it; there's a wonderful little courtyard, we're friendly with the neighbors, and it's a five-minute stroll to some great local restaurants. Clients love the location."
Leary, a Brit, is the 100-percent shareholder, founder and CEO of Column Associates. "I'm also the cook and the dog walker," he adds, motioning to the office pet, a 4-month-old Schnauzer who's busy gnawing at my shoe.
Leary and his consultants are known as "headhunters" in common parlance. Those in the industry's higher end prefer "executive search" to describe what they do, perhaps to distance it from the grisly origins of the word "headhunting" – the former practice in many societies of removing and preserving enemies' heads after killing them.
"Headhunting" in the modern sense of the word is said to have arisen among the old boys' networks of Oxford and Cambridge Universities at the turn of the last century as a way for alumni to secure plush banking jobs in the City of London.
In recent years, as many firms have sought to outsource the grunt work in finding employees in order to concentrate on their key business, headhunting has grown into a worldwide industry. Executive search firms such as Leary's Column Associates are at the pinnacle of the profession and focus on finding directors, vice presidents and other high-end employees. Fees can be massive – as much as 30 percent of a successful job applicant's first-year compensation package.