Prophets, prostitutes and spies are all in a day's work as a comic tour guide combines improv with Chinese history. Darnell Gardner Jr. follows along for flashes of history - and humor.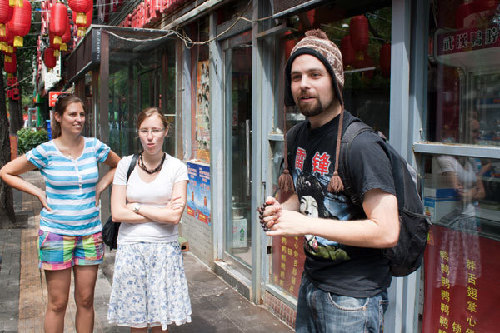 Jeffrey Schwab mixes humor with theater and historical facts as he guides groups through Beijing's celebrated residential mazes, Darnell Gardner Jr. / China Daily
Jeffrey Schwab gestures for his tour group to stay to one side of the alleyway as a wagon stacked with propane tanks eases by. "Look out, explosive gas!" he warns, tongue in cheek.
Once the wagon turns the corner, he turns his attention to more temporal matters. "Before we leave, does anyone need to use the bathroom? Because all the restrooms along the way will be time portals I disappear into."
Schwab, 32, leads groups of Beijing's curious on tours of the city's hutong - the network of tile-roofed courtyard houses that are slowly giving way to modern buildings.
The tours, like almost everything in Schwab's life, are never safe from his imagination.
He mixes humor with theater and historical fact as he guides groups through Beijing's celebrated residential mazes, slipping into public restrooms along the way to change costumes and characters.
This tour - called "Prostitutes, Prophets and Spies" - features three ill-fated figures of Chinese history telling their stories from a first-person perspective.
Schwab developed the tour with The Hutong, a local cultural exchange center. He says the tours are constantly evolving.
"I'll find little bits of information here and there from books I'm reading," he says. "And the people you bump into in the hutong are always very forthcoming."
His favorite character to impersonate is Wu Sangui, the military general commonly credited with helping dismantle the Ming dynasty (1368-1644). In this role, Schwab hardens his voice, swats air at his face with a fan, and shoots the occasional salute to curious passers-by.
Schwab says Wu, like his other characters, isn't black-and-white.
"Was he really a traitor, or was he not?" he says. "I think these characters are so up to interpretation. The way they write history books is just one interpretation."
Schwab, an improv comedy enthusiast and amateur thespian, says his background simply wouldn't allow him to run a typical hutong tour.
"I figured I could just give out information on the tour, but that always feels a little strange. Being this white guy talking about Chinese history, I feel like I need to do something a little different," he says. "I figured I'd just be the characters and just have fun with it."
Erin Henshaw, one of Schwab's colleagues at The Hutong, says Schwab's personality shines through on the tours.
"His tours are very animated," she says. "He puts a lot of effort into research and presentation, and his love of Chinese culture and history really shows."
Henshaw says Schwab's ability to speak Chinese sets him apart from other tour guides. "He's able to investigate parts of Chinese history that are usually hidden to foreigners."