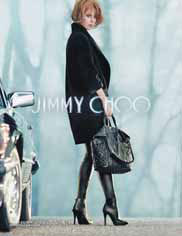 Top and above: Actress Nicole Kidman is the face for Jimmy Choo latest ad campaign. Photos Provided to China Daily
He was a humble shoemaker who has left some indelible footprints in haute couture. Now his name is stamped on a label that is still going strong in spite of a slew of challengers. Kitty Go reports in Hong Kong on the Jimmy Choo story.
How does a luxury footwear and accessories brand which became a household name thanks to the TV series Sex and the City not lose its luster among a loyal and growing customer base that relies on the brand for classics that have become the backbone of mostly working woman's shoe wardrobe?
And while celebrity-endorsed fashion is said to be waning, hires a sexily re-invented Nicole Kidman to act out its major advertising campaign?
In over 20 years of business, Jimmy Choo has gone through various ownerships and investors. Although still alive and working, its original eponymous designer is no longer connected to the company.
His niece, Sandra Choi, who has been with the company from the start, designs the current line. The brand is now owned by Labelux, a fashion holding company based in Switzerland, which also owns other luxury leather goods companies like Bally, Belstaff and Zagliani.
Aside from never having had an "it" bag or shoe, today's Jimmy Choo makes a fascinating story because it is one of the few brands who has never aggressively entered China although it has had a store in Beijing and Shanghai for the last 10 years.
A freestanding men's boutique in Shanghai is scheduled to open in the autumn. Two women's boutiques opened this summer and another is scheduled to be opening in Beijing.
Its largest market remains America with China contributing less than 10 percent to its total sales.
Jimmy Choo CEO Pierre Denis reports that the company is growing in the high double digits and is one of the top three brands in the US but admits that if they wanted to be as big in China, it would take time.
"The timing is good because in essence, as we are privately-owned, we do not have the pressures of the stock market. We can build a brand in China while it is going through a change in the consumption of luxury and clients are open to having something different. It is usually at these times that you are able to establish yourself."
Another factor of their business counter to the common story of the slowdown in luxury goods is the brand's success in Japan, the very country long thought to be a shrinking luxury goods market.
"We are very much bolstered and enthusiastic about the success we have in Japan because it is probably the fastest growing market for us," says Denis, who is taking this successful marketing and business formula to the rest of the world.
It may just become a blueprint for other brands to follow.
Jimmy Choo goes against the grain of luxury fashion brands in the sense that they literally have something for everyone and is many things to a wide female audience. This merchandise mix has made them popular with everyone from celebrities to CEOs including, yes, the Japanese.
"The brand has a side that everyone knows which are Hollywood and red carpet glamour. It is a strong and very visible side of our brand but there is another huge side of the Jimmy Choo woman which is the empowered working woman," explains Denis.
"That is where the popularity of our biker boots comes in. The Japanese customers have totally embraced this biker feeling and rock 'n' roll attitude. They are crazy about our boots and crazy about pieces that have a rock attitude. This combination of sexy and rock is what we have at this point.
"We are also a brand that does not have any logos or any distinct details associated with our shoes. No obvious branding is a value which I think is very important and present for now, which is more luxurious."
As Jimmy Choo once said, "The right shoe can make everything different".
"These classic products which women wear to the office are important and we are proud to be associated with the fact that we make beautiful shoes for women to wear to work That is the side I really like in China. There is an importance to the status of the Chinese woman," Denis says.
"There are a lot of similarities between the US and China in terms of respect and empowerment of women which is not seen in many other countries."
This customer and her lifestyle greatly influenced Jimmy Choo's designer in her decision to sign actress Nicole Kidman for this season's new print and video advertising campaign.
"Nicole Kidman is very trans-generational," says Denis, qualifying Choi's choice. "If you look at strong actresses right now who have longevity, intelligence and worldwide aura, they are all about the same age. Magazines tell you 40 is the best age for a woman.
"It is a powerful age and those women are great examples, one of them being Nicole Kidman."
The campaign is indeed unexpectedly glamorous, produced and shot like a film noir, with enough danger and a rock 'n' roll attitude to inspire current customers and sure to attract new ones of all ages.
"Shoes follow fashion and clients are sensitive to that. These fashion sensibilities are the same all over the world with the differences perhaps only in sizes and color depending on skin tones."
It is too early to tell what styles will be popular with Jimmy Choo Men's since the brand just started selling in Japan two years ago, followed by a shop in London that opened early this year.
However, Denis is quick to point out that the changing lifestyle of men wearing more casual fashion drives the collection. "Our male customer is sophisticated and casual," says Denis. "He goes from sports shoes with a strong twist to slippers which are cool for comfort and appearance. The men's line is moving in a very interesting manner. I believe no one wears ties so it's all about the shoes. Now men take so much better care of themselves and what matters are the shoes and the watch."
We recommend:
Showing her stuff to the folks at home