Chinese-American photographer Liu Heung Shing has been capturing China with his camera for more than 30 years.
It has been 30 years since Chinese-American photographer Liu Heung Shing published his photography book China after Mao. The Pulitzer-prize winner is presenting, for the first time in China, 115 of his pictures at China Art Museum in Shanghai, until Aug 27. The exhibition China Dream, Thirty Years spans a 35-year period of observing the country through his camera lens. China has experienced unprecedented 30 years of drastic changes and development, the photographer says. For many people in China, this has been a period of dreams come true.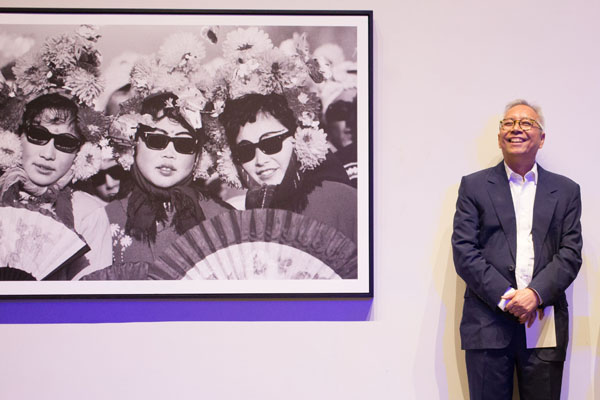 Prize-winning photographer Liu Heung Shing is presenting his solo show China Dream, Thirty Years, in Shanghai, offering a look back over his photojournalism career and the country's transformation since the 1970s. [Photo by Gao Erqiang / China Daily]
The country is like a giant ship moving in a new direction since 1978, when China started to focus on economic development and open up to the world. Liu has witnessed and captured the country's transformation from collectivism to individualism.
Liu's pictures take up two exhibition halls on the ground floor of the museum. The curator has arranged the exhibits in a way that in one of the halls, images focus on collective life of China, while the other features diverse personalities and individuals.
Some of Liu's most famous photographs reveal details of Chinese people's daily lives — how they live, leisure and love. [Photo by Liu Heung Shing]
Liu was born in 1951 and spent most of his childhood in Fujian province before moving to Hong Kong. When studying at the City University of New York, he read extensively about China, comparing what he read with his impressions from childhood.
Upon graduation, his enthusiasm about China led him back to the country as a journalist.
His first assignment in China as a photographer took place in 1976. He didn't receive permission to go to Beijing to photograph the mourning for Chairman Mao's passing, so he stayed in Guangzhou, but he was sensitive enough to find traces of a society ready to change.
"People practiced tai chi in the park as usual, but their shoulders looked somehow relaxed, slightly different,"Liu recalls.
In 1978 he started to work as the founder and reporter for Time magazine's Beijing office.
He was impressed with the prevalence of political intervention in everyday life.
We Recommend: