A German fan of martial arts found a kung fu master - and a bride - in his pursuit of excellence. Liu Kun reports from Wuhan and Xu Lin in Beijing.
Maik Albrecht, 32, never expected that an old Chinese kung fu movie would make him a martial-arts champion and bring him an intercultural marriage. "Kung fu is either a hobby or sport. It's a passion that never fades in my life," says Albrecht in Mandarin.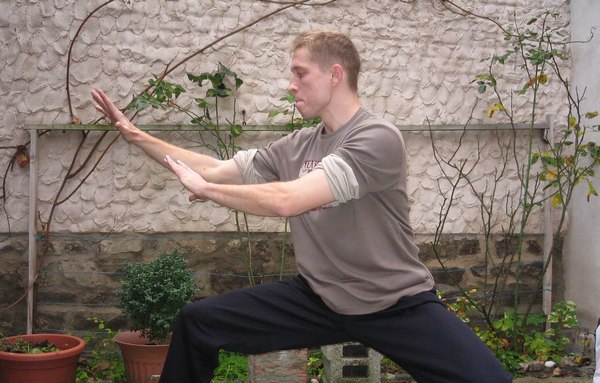 While more and more Europeans fall in love with Chinese kung fu, Maik Albrecht says it is a pity that modern Chinese are not so interested in traditional martial arts. Provided to China Daily
He is both apprentice and son-in-law of kung fu master Li Zhenghua from Wuhan, Hubei province, who used to teach kung fu at the Wuhan Municipal Public Security Bureau.
Albrecht's interest in Chinese martial arts was piqued by a 1980s Chinese kung fu movie, Deadly Fury. Five years old at that time, he was fascinated to see how the small hero defeated the big and strong Russian with baguazhang (strong push with the palm).
Like other youngsters, his interest was stimulated by the kung fu movies of Bruce Lee and Jackie Chan. He started to learn karate, taekwondo and boxing, but wondered whether Chinese martial arts were more brilliant.
In 2000, when Li went to Germany to visit his daughter Li Qiaofang, who was studying there, he opened a short-term kung fu training class. Albrecht came to see what he could learn.
He told Li, "If you are a real Chinese kung fu master, defeat me. Or please don't waste my time or money".
With a height of 1.85 meters, the 19-year-old Albrecht seemed to take the wind. When he tried to deliver a right-handed blow, Li dodged cleverly and grasped his arm, throwing him to the ground.
With a heartfelt admiration, he begged Li to be his teacher.
Three months later, Li came back to China. Albrecht, who had been saving money after his military service ended, flew to China in January 2001.
He and master Li could only communicate with body language. But later, Albrecht went to Wuhan University to learn Chinese, so as to better understand Chinese kung fu.
He says compared with Chinese, Europeans' bodies are a bit rigid, but Chinese kung fu is about flexibility. So he has to make more efforts than Chinese to achieve the same level.
"He perseveres," says Li, who allowed Albrecht to learn, live and eat for free at his home after half a year of training.
Albrecht had to learn many things from scratch, including leg kicking, leg pressing and breathing. He practiced at least eight hours a day and even trained bare-armed on snowy days outdoors.
He not only broke the iron bed at Li's home with leg presses, he also kicked holes in closets and desks while practicing. He used to wear lead weights heavier than 20 kilograms to build leg strength.
We recommend: