Belgian students explore Chinese culture
Updated: 2019-03-07 17:04
(chinadaily.com.cn)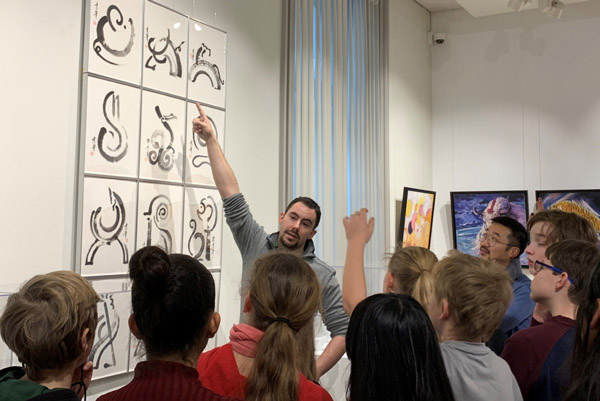 Students from the local Flemish School visit an exhibit of Chinese zodiac and warmers, known in Chinese as tangpozi, at the China Cultural Center in Brussels, Belgium, on March 1. The show ends on March 29. [Photo by Ning Yuqi/provided to chinadaily.com.cn]
The warmers tell the story of social change in Chinese society, from copper to enamel, from ceramics to rubber, from leather to plastic. Some of the warmers depart from the conventional round shape, with a number shaped like fish, birds and rabbits.
"I have always wanted to go to China to experience the culture," said Baxter. "The exhibitions have made me even more curious about China."
The two exhibitions try to bring Chinese culture to new audiences. "The key lies in the fusion between the cultural elements of China and Belgium," said Ge.
Located 300 meters away from the headquarters of the European Union, the cultural center held 13 major events in 2018, including Qipao exhibitions, an EU-China film festival, and concerts. It also stages Chinese film screenings and Taiji, painting, calligraphy and Chinese language classes.
"Chinese culture is never remote, it coincides with the culture of Europe," Ge said.
Ning Yuqi contributed to this story.