Chinese cultural event kicks off in NE Egypt
Updated: 2019-04-11 16:01
(Xinhua)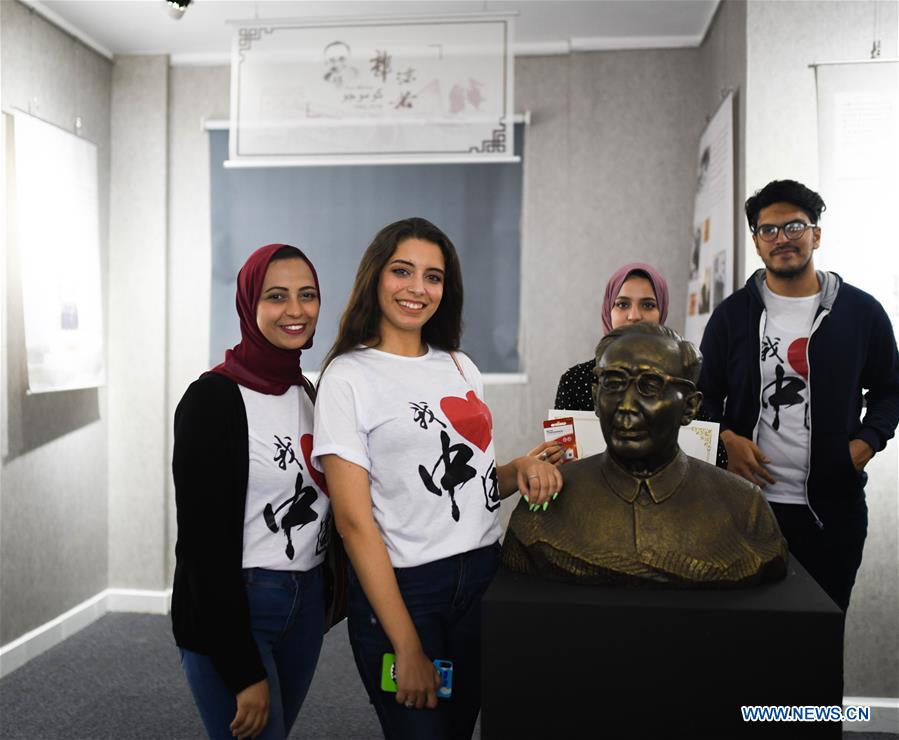 Students take photos during Guo Moruo Cultural Week in Ismailia, Egypt on April 10, 2019. "Guo Moruo Cultural Week" kicked off on Wednesday at the Confucius Institute of Suez Canal University in Ismailia in northeastern Egypt. The second "Guo Moruo" Chinese Modern Poetry Reading Competition, which is the highlight of the event, was held right after the opening ceremony.  [Photo/Xinhua]
"Guo Moruo Cultural Week" kicked off on Wednesday at the Confucius Institute of Suez Canal University in Ismailia in northeastern Egypt.
The second "Guo Moruo" Chinese Modern Poetry Reading Competition, which is the highlight of the event, was held right after the opening ceremony.
The contesting students came from the Chinese Cultural Center in Cairo and the Confucius institutes and language colleges of nine universities nationwide, including the universities of Cairo, Ain Shams, Al-Azhar, Suez Canal and Fayoum.
The contestants recited modern Chinese poems written by famous Chinese poets like Gu Cheng, Xi Murong, and Shu Ting, winning applause and cheers.
After nearly two hours of intense competition, Rowan Ahmad and Rana Adel, third-year students of the Chinese Department of Language School of Suez Canal University, and Kholoud Khalid, a third-year student of the Chinese Department of School of Literature of Cairo University, won the first prize.
"During the preparation of the competition, I got a better understanding of Chinese culture and Chinese history," Kholoud Khalid told Xinhua after the competition, noting that she is preparing for Level 5 of Chinese Proficiency Test.
She expected further study in Peking University after her graduation, adding that she hopes to become a Chinese teacher when she returns to Egypt.
Zhang Bojiang, one of the judges, also senior official of Institute of Literature of Chinese Academy of Social Sciences, said that the contestants' amazing performances totally surprised him and he was deeply impressed by their love about Chinese culture and appreciation on cultural exchange between China and Egypt.
Zhu Tingting, the Chinese dean of the Confucius Institute at Suez Canal University, told Xinhua that Guo Moruo had visited Egypt twice and expressed his solidarity with the Egyptian people.
"The Egyptian people have deep love for Guo Moruo, so we decided to promote Guo Moruo's research first and then extend our cultural reach," Zhu said.
Besides the competition, there will also be an exhibition and a forum about Chinese culture and works of Guo Moruo, a renowned Chinese author and historian who died in 1978.