Belgian students explore Chinese culture
Updated: 2019-03-07 17:04
(chinadaily.com.cn)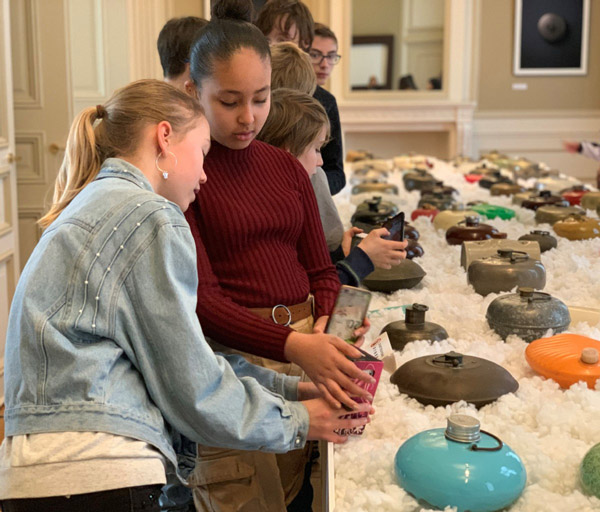 Students from the local Flemish School visit an exhibit of Chinese zodiac and warmers, known in Chinese as tangpozi, at the China Cultural Center in Brussels, Belgium, on March 1. The show ends on March 29. [Photo by Ning Yuqi/provided to chinadaily.com.cn]
"I love everything here because they are so special, especially when the zodiac signs are put together with constellations," said Dariel Avendano. The constellations, familiar in Europe, feature in the exhibitions to resonate with European audiences.
The artworks were created by famed artist Hon Bing-wah and his wife, So Man-yee, both from Hong Kong.
"The world recognition of the couple arouses the sense of approval to cultural identity in a way," said Ge Yiyou, director of the China Cultural Center in Brussels.
Meanwhile Chinese Warmers focuses on Chinese hot-water bottles, known as tangpozi, which can be traced back to Song Dynasty (960-1279).
"The initial purpose of the exhibition is to demonstrate the warmth beneath Chinese culture. When you think of the warmers, they remind you of the warm bed, the sweet home and even your beloved motherland," Ge said.
The Belgian teens enjoyed the exhibit: "The warmers are just so cool!" said Aliyah, busy taking photos, saying "I am going to post them on my Facebook."