Maritime Silk Road International Tour kicks off in Bangkok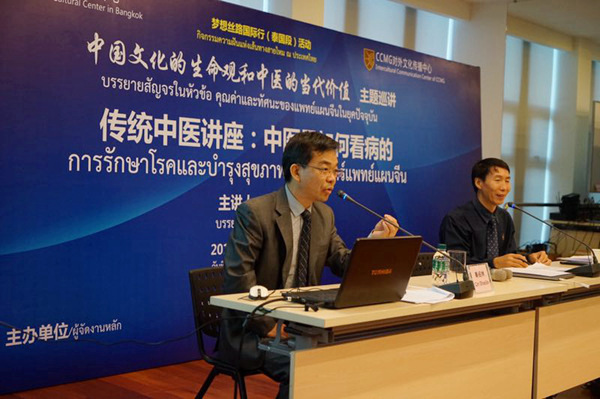 Traditional Chinese medicine expert Qin Shaolin gives lecture on the age-old Chinese medical system in Bangkok, Dec 9, 2017. [Photo/Chinaculture.org]
The Maritime Silk Road International Tour kicked off in the Thai capital of Bangkok on Saturday with a lecture on traditional Chinese medicine (TCM), as a prelude to a series of cultural activities to promote Chinese culture and to boost China-Thailand cultural ties.
More than 100 audience members gathered at the China Cultural Center in Bangkok to get a glimpse of the age-old Chinese medical science.
Qin Shaolin, a TCM expert and a professor with the Eye Hospital of China Academy of Chinese Medical Sciences, provided basic knowledge of TCM, including its philosophical background and basic medical concepts. He also demonstrated ways of treatments.
The event was co-hosted by China Cultural Media Group and China Cultural Center in the Thai capital.