Chinese Cultural Week kicks off in Bucharest
Updated: 2018-10-29 14:19
(Xinhua)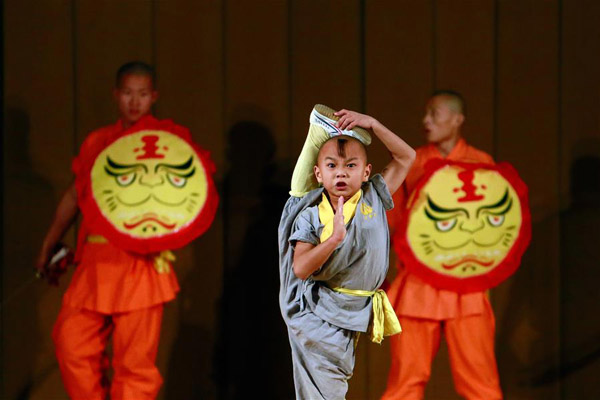 Chinese artists from Henan art troupe perform during the Chinese Cultural Week in Bucharest, capital of Romania, on Oct 27, 2018. The Chinese Cultural Week started here on Saturday. [Photo/Xinhua]
The Chinese Cultural Week kicks off in Bucharest on Saturday with a brilliant, spectacular show performed by the Chinese artists from Henan art troupe.
Organized by the Confucius Institute in collaboration with the Chinese Cultural Center in Bucharest, capital of Romania, the initial performance held in the Aula Magna of the Law School enchanted the public and was a great success.
"Everything was extraordinary. I didn't see so much professionalism in a long time," Irina Cajal, Undersecretary of Romania's Ministry of Culture, told Xinhua.
"My only regret is that it's the only performance in Bucharest, it should have been seen by more people. We have to strengthen a long-lasting friendship and to have more cultural exchanges," she added.
Indeed, the experience was unique for the Romanian public, as teachers and students, officials and representatives of Chinese companies crowded there and enjoyed the Chinese dances, traditional folk music and Shaolin monk's thrilling demonstrations of kung fu art with applause.
Besides, the public was touched by two Romanian songs performed by the Henan ensemble, "Ciocarlia (The skylark)," a folk tune, and "At the mirror," composed on Romanian famous poet George Cosbuc's lyrics, which were specifically prepared for the event.
"It was a wonderful evening, a splendid experience to understand the vibrant culture of the Chinese people. I was extremely moved when the artists performed two beautiful Romanian songs," said Vasile Marta, a school teacher. "In that moments, I recalled what a great, warm friendship our nations cherished and a friendship I hope we will pursue."
The nearly two hours' show were marked by the friendly atmosphere between the Romanian and the Chinese people.