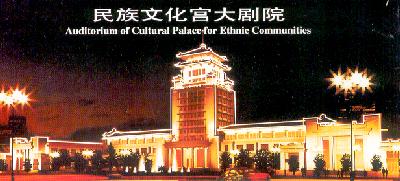 Auditorium of Cultural Palace for Ethnic Communities
The Cultural Palace for Ethnic Communities is well-known both at home and abroad, located on Beijing Chang'an Street, it is one of the ten big buildings constructed to mark the 10th anniversary of the founding of the People's Republic of China. It has many honorable tittles because of its unique national characteristics. In 1994, it was chosen by Beijing residents as the first place of fifty my most favorable national-style of structures and was selected in world history of structures published by U.K. as the first palace in New China.
The Palace Auditorium is situated at the east of the main building. It is installed with 1,131 seats, the standard setting design, the advanced lights and sound effects, the lifting and falling orchestra pit, and centralized air conditioning equipment. It is an ideal activities center for large-scale performances of music, song and dance, opera and meetings. At the back stage there are three stories of well-equipped dressing rooms. In front of the hall there are perfect services of lounge, distinguished guest room, coffee room and shopping room. 
For forty years, the Auditorium has successively received a large number of excellent performing groups both at home and abroad, such as Austria Vienna Symphony Orchestra, the United States Frisco Symphony Orchestra, the United Kingdom Royal Ballet Troupe, the former Soviet Union's Royal Ballet Troupe, etc. The world famous music directors Menuhin, Seigi Ozawa directed here for the first time in China. Besides, the Auditorium has always organized special performances for diplomatic envoys and distinguished guests of various circles. The leaders of the state have come to the Auditorium to view performances.
The Cultural Palace warmly welcomes domestic and foreign literary and artistic groups to stage performances here. Under the Theater there is a performing plan and propaganda department, a booking office, a setting technique department, a stadium affairs department and shopping department. We shall provide actors and audiences with modern management and high quality services.
Address: No. 49, Fuxingmennei Dajie, Beijing
Post code: 100031
Tel: (010) 66022530
Fax: (010) 66052404