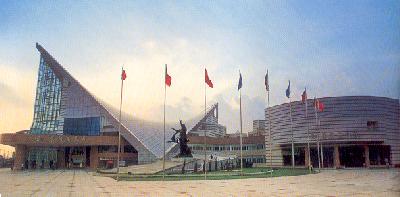 Century Theater & Century Performance Company
The Century Theater is the first-grade theater at 1990s world level. Presenting larger-scale opera, modern drama, and ballet on the stage while providing advanced reflective sounding equipment for large-scale symphony orchestra, the Theater is one of the best in China with the most advanced designing, the best equipment and complex conditions.
The Century Theater has so far successively received such first-grade symphonic orchestras as the New York Philharmonic Symphonic Orchestra, Cleveland Symphony Orchestra, Russian Juror Symphony Orchestra and such well-known performing groups as Austrian State Opera Theater which performed the large-scale opera Nozze di Figro, etc.
The Century Theater is close to Beijing Dongsanhuan embassy district and foreign enterprise and commercial district. With convenient communications and enough places for parking, it provides favorable conditions for high grade performances. Following the principle of the best services, the Theater provides audiences with the free return bussing services after the end of a concert.
The Century Performance Company is an enterprise subordinated to the China International Youth Exchange Center. Depending on the Century Theater, the Century Performance Company has sponsored and undertaken the lager-scale cultural and commercial activities for many times, such as Beijing concert held by Japan NHK Symphony Orchestra, Japan Violinist Nixisaki Suiko's Concert, the ice-ballet dance drama Cinderella of the United States performed for 24 showings, Beijing Concert held by the National Symphony Orchestra of the U.S., Mot World Touring, etc. in 1998,entering into the commercial performing market, the Company successively held the large-scale concert, such as The Night of Moscow held in Beijing and Shanghai, China Touring Concert held by German Rhine Symphony Orchestra, Beijing Concert held by Norway Myth Garden Music Group, the performance of Japan Takarazuka Opera Troupe, etc.
The Century Performance Company is willing to make sincere cooperation with various social circles and to constantly hold high-level concerts and grand cultural actives.
Address: No.40, Liangmaqiaolu Road, Chaoyang District, Beijing
Post code: 100016
Tel: (010) 64628470